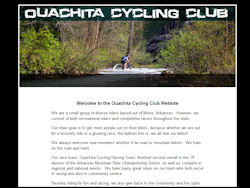 The Ouachita Cycling Club is a small group of diverse riders based out of Mena, Arkansas. However, the club has members consisting of both recreational riders and competitive racers throughout the state.
Their main goal is to get more people out on their bikes, because whether we are out for a leisurely ride or a grueling race, the bottom line is, we all love our bikes! They always welcome new members whether it be road or mountain bikers. They train on the road and trails.
The club's race team, Ouachita Cycling Racing Team, finished second overall in the "A" division of the Arkansas Mountain Bike Championship Series, as well as compete in regional and national events. Besides riding for fun and racing, they also give back to the community and the sport by doing tons of trail maintenance. Without our trails, we would have nothing!
Last but not least, the club sponsors two big mountain bike events each year. The Ouachita Challenge is a 2-day mountain bike event in March and The Revenge of the Ridge is an AMBCS mountain bike race in May.
The Ouachita Cycling Club web site seems to have disappeared, so presumably the club has folded...
Sorry, but this listing is not currently active;
info shown is the last known data...