Kansas Bicycle Rides & Events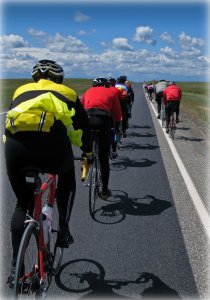 Kansas bicycle rides are scheduled around the entire state and throughout the year, particularly in the spring, summer, and fall. There are always new sights to see, new country to explore, and new friends to make. The big event of the year is the annual Biking Across Kansas tour that takes place each June, and attracts cyclists from all over the world, but there are many more rides to look forward to, whether you're into on-road or off-road cycling.
A Few Random Rides & Events
Hell Creek on Wheels

A a one-day mountain bike challenge at the Wilson State Park's epic Switchgrass Mountain Bike Trail in Kansas.

YMCA Bike Rodeo

This Bike Safety Rodeo takes place at Paul Henson Family YMCA in Prairie Village, Kansas.

Olpe Downhome Fun Ride

An annual gravel road mountain bike ride that takes place in Olpe, Kansas, with 22 and 55 mile route options.

Tour de Hope

An annual ride that takes place in the Kansas City metro area in support of three local charities. 15, 40, 62, and 69-mile route options.

Osage Prairie Tour

The Osage Prairie Bicycle Tour is a charity event to raise funds for local youth organizations in Parsons, Kansas. 15, 40, and 70 mile options.
Bicycle Rides and Events in Neighboring States
Other Related Events