Kansas Bicycle Rides & Events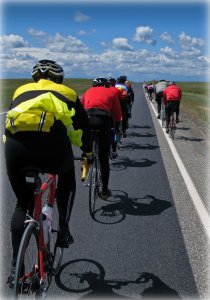 Kansas bicycle rides are scheduled around the entire state and throughout the year, particularly in the spring, summer, and fall. There are always new sights to see, new country to explore, and new friends to make. The big event of the year is the annual Biking Across Kansas tour that takes place each June, and attracts cyclists from all over the world, but there are many more rides to look forward to, whether you're into on-road or off-road cycling.
A Few Random Rides & Events
Grand Prix HPT

Grand Prix HPT is an "avondcross" event (Flemish for evening 'cross), at the Heartland Park Topeka dirt track in Topeka, Kansas.

Salt City Criterium Classic

Cheer on semi-pro bicyclists as they take on this two-day family-friendly event in Hutchinson, Kansas.

Blanket Race Series

A fun, easy going, and affordable off-season mountain biking race series taking place in West-Central Kansas.

Mission Valley High School Band Gravel Ride

Come ride the beautiful Flint Hills in Wabaunsee County. 16, 38, and 74-mile routes.

Olathe Helmet Head Bike Rodeo

This Bike Safety Rodeo takes place at Olathe Medical Center in Olathe, Kansas. Kids get a free bike helmet, while supplies last.
Bicycle Rides and Events in Neighboring States
Other Related Events