Kansas Bicycle Rides & Events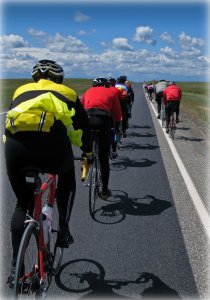 Kansas bicycle rides are scheduled around the entire state and throughout the year, particularly in the spring, summer, and fall. There are always new sights to see, new country to explore, and new friends to make. The big event of the year is the annual Biking Across Kansas tour that takes place each June, and attracts cyclists from all over the world, but there are many more rides to look forward to, whether you're into on-road or off-road cycling.
A Few Random Rides & Events
The Kansas City Ultra-Cycling Brevet Series provides opportunities for randonneurs to test their endurance with 200km, 300km, 400km, 600km, and 1000km events.

Rural Route 13.1

05-04-2019

An annual event in Esbon, KS, featuring a 13.1 mile bike ride, as well as a walk/run event.

Velotek Grand Prix

An annual bicycle racing event near Lawrence, Kansas. It is a time-based stage race consisting of three stages.

Critical Mass Wichita

Critical Mass Wichita hosts a community bike ride on the last Friday of each month in Wichita, Kansas. Enjoy sharing the road in the safety of a group of fellow cyclists, and advocate for bike lanes and other bicycle infrastructure.

ALS Road Race Series

The ALS Road Race Series takes place each March at Lake Perry, Kansas and provides early-season road race training on a fun and challenging course.
Bicycle Rides and Events in Neighboring States
Other Related Events