Kansas Bicycle Rides & Events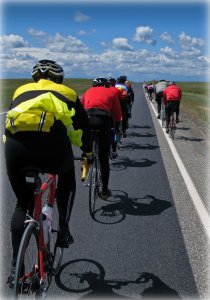 Kansas bicycle rides are scheduled around the entire state and throughout the year, particularly in the spring, summer, and fall. There are always new sights to see, new country to explore, and new friends to make. The big event of the year is the annual Biking Across Kansas tour that takes place each June, and attracts cyclists from all over the world, but there are many more rides to look forward to, whether you're into on-road or off-road cycling.
A Few Random Rides & Events
Sand Plum Bicycle Classic

The Sand Plum Bicycle Classic offers 13-mile, 28-mile, or 53-mile routes through Reno County, Kansas. This is not a race, but a fun ride for all to enjoy.

Boulevard Cup

A cyclocross race at Stump Park in Shawnee, Kansas

The Kansas City Ultra-Cycling Brevet Series provides opportunities for randonneurs to test their endurance with 200km, 300km, 400km, 600km, and 1000km events.

Lizard Under the Skillet

What better way to beat the heat than to come out to Lawrence, Kansas, and ride the Lizard Under the Skillet. There will be 30, 40 and 65 mile options available to ride.

Dodge City Days Bike Ride

Enjoy up to 45 miles of riding as part of the annual Dodge City Days celebration, and stay for the parade, rodeo, and barbecue contest!
Bicycle Rides and Events in Neighboring States
Other Related Events