Kansas Bicycle Rides & Events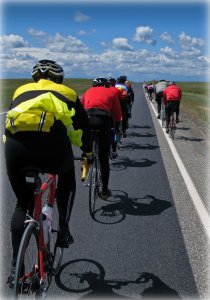 Kansas bicycle rides are scheduled around the entire state and throughout the year, particularly in the spring, summer, and fall. There are always new sights to see, new country to explore, and new friends to make. The big event of the year is the annual Biking Across Kansas tour that takes place each June, and attracts cyclists from all over the world, but there are many more rides to look forward to, whether you're into on-road or off-road cycling.
A Few Random Rides & Events
SPECS Wichita Riverfest Criterium Race

Cyclists from all over the Midwest will showcase their skill and fitness on a technical, 1.2 mile lap winding in and around downtown Wichita and sweeping along the east bank of the Arkansas River.

Sweetlove Gravel Grinder

A gravel road bicycle event that takes place near Oskaloosa, Kansas, through the rolling hills of central Jefferson County.

Jagger (Just Another Gravel Grinder Race)

An annual gravel road bicycle race taking place in Eskridge, Kansas.

Biking Across Kansas

06-05-2021

Biking Across Kansas (BAK) is a recreational bicycle tour that crosses the state of Kansas within the space of eight days. Participants enjoy the challenge, camaraderie, and adventure of pedaling from Colorado to Missouri under their own power.

Ride of Silence - Edgerton

Join cyclists worldwide to honor those who have been injured or killed while cycling on public roadways. The Edgerton Ride of Silence begins and ends at Edgerton Elementary School.
Bicycle Rides and Events in Neighboring States
Other Related Events