Kansas Bicycle Rides & Events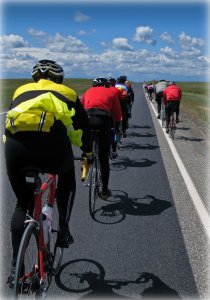 Kansas bicycle rides are scheduled around the entire state and throughout the year, particularly in the spring, summer, and fall. There are always new sights to see, new country to explore, and new friends to make. The big event of the year is the annual Biking Across Kansas tour that takes place each June, and attracts cyclists from all over the world, but there are many more rides to look forward to, whether you're into on-road or off-road cycling.
A Few Random Rides & Events
Walk-Ride-Run 4th

An annual event that takes place on July 4th in Marysville, Kansas, on the Blue River Rail Trail, with a 1.5 mile Run/Walk, a 3.1 mile (5K) Run/Walk/Bike, and a 14-mile Bike.

Cool Hand Luke Gravel Grinder

An epic bicycle event through the countryside of Leavenworth County, Kansas. 25, 50 and 100-mile route options.

Bike for Health

A one-day bicycle ride in Ellsworth County, Kansas. Riders are challenged to ride further then they normally would ride, up to 100 miles.

Tour de Hope

An annual ride that takes place in the Kansas City metro area in support of three local charities. 15, 40, 62, and 69-mile route options.

Rural Route 13.1

An annual event in Esbon, KS, featuring a 13.1 mile bike ride, as well as a walk/run event.
Bicycle Rides and Events in Neighboring States
Other Related Events