Kansas Bicycle Rides & Events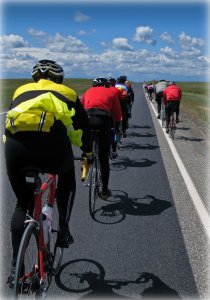 Kansas bicycle rides are scheduled around the entire state and throughout the year, particularly in the spring, summer, and fall. There are always new sights to see, new country to explore, and new friends to make. The big event of the year is the annual Biking Across Kansas tour that takes place each June, and attracts cyclists from all over the world, but there are many more rides to look forward to, whether you're into on-road or off-road cycling.
A Few Random Rides & Events
Olathe Helmet Head Bike Rodeo

This Bike Safety Rodeo takes place at Olathe Medical Center in Olathe, Kansas. Kids get a free bike helmet, while supplies last.

Bicycle X-Change Criterium Race

Cyclists from all over the Midwest will showcase their skill and fitness on a technical, 1.1 mile lap winding in and around the picturesque Riverside Oak Park and sweeping along the east bank of the Arkansas River.

Tour de Chicken Creek

Come out and enjoy a different kind of ride and new scenery! See a part of Douglas County that most people don't get to enjoy on the Tour de Chicken Creek Gravel Road Ride. 25 and 50-mile options.

Cross Out Cancer

A cyclocross race hosted by the Livestrong Army of KC, at Shawnee Mission Park, Lenexa, KS.

God's Country Fat Tire Festival

04-08-2017

Fat tire fun on the Lawrence River Trails in Lawrence, Kansas. Off-road duathlon and mountain bike race.
Bicycle Rides and Events in Neighboring States
Other Related Events