Kansas Bicycle Rides & Events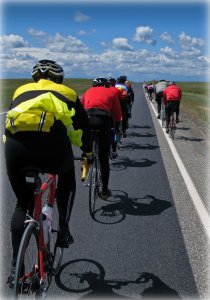 Kansas bicycle rides are scheduled around the entire state and throughout the year, particularly in the spring, summer, and fall. There are always new sights to see, new country to explore, and new friends to make. The big event of the year is the annual Biking Across Kansas tour that takes place each June, and attracts cyclists from all over the world, but there are many more rides to look forward to, whether you're into on-road or off-road cycling.
A Few Random Rides & Events
SMPCX

A Cyclocross Race that takes place at the Theater in the Park venue in Shawnee Mission Park, Shawnee, Kansas.

Mowbray Metric

07-15-2017

An annual bicycle ride weekend that features both sagged and unsagged rides with 20, 40 and 62-mile options. McPherson, KS.

Tour de Shawnee

Tour de Shawnee is an annual bike tour around the bicycle-friendly city of Shawnee, Kansas.

MCC Flatlander

An annual charity ride for the Mennonite Central Committee in Newton, Kansas, with rides of 35, 45 and 65 miles.

Operation Pedal Express

An annual Butler County, Kansas ride to raise funds to send packages to troops in combat zones. 7, 20, and 50-mile route options.
Bicycle Rides and Events in Neighboring States
Other Related Events