Kansas Bicycle Rides & Events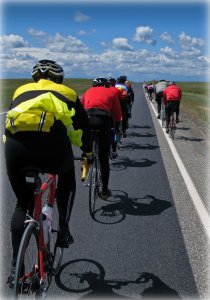 Kansas bicycle rides are scheduled around the entire state and throughout the year, particularly in the spring, summer, and fall. There are always new sights to see, new country to explore, and new friends to make. The big event of the year is the annual Biking Across Kansas tour that takes place each June, and attracts cyclists from all over the world, but there are many more rides to look forward to, whether you're into on-road or off-road cycling.
A Few Random Rides & Events
Lansing Bike Rodeo

An annual event that takes place in Lansing, Kansas, designed to teach the importance of bicycle safety to kids.

Osage Prairie Tour

The Osage Prairie Bicycle Tour is a charity event to raise funds for local youth organizations in Parsons, Kansas. 15, 40, and 70 mile options.

Tour de Cyclone Country

A cycling event that takes place across historic and picturesque Wyandotte County, Kansas, with 7, 22 and 40-mile route options.

Hudson Chicken Ride

An annual event that takes place on low-traffic roads around Hudson, Kansas. Come and enjoy the hospitality of rural Kansas!

Pasta 58 Benefit Ride

The annual Pasta 58 Bike Ride begins in Junction City, travels to Abilene, and back. Sponsored by the Junction City Recreation Department.
Bicycle Rides and Events in Neighboring States
Other Related Events