Kansas Bicycle Rides & Events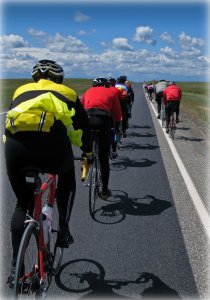 Kansas bicycle rides are scheduled around the entire state and throughout the year, particularly in the spring, summer, and fall. There are always new sights to see, new country to explore, and new friends to make. The big event of the year is the annual Biking Across Kansas tour that takes place each June, and attracts cyclists from all over the world, but there are many more rides to look forward to, whether you're into on-road or off-road cycling.
A Few Random Rides & Events
Bruce Whaley Spirit Ride

The Bruce Whaley Spirit Ride is hosted and organized by the Kaw Valley Bicycle Club as a fund-raising event for the Leukemia Society. Ride 6.5, 25, or 50 miles through southeast Shawnee County.

BAMFAM

An annual ride in McPherson, KS, part of a Spring Bicycle Festival which includes the ride, fun for kids, a picnic lunch, and drawings for bikes.

Mowbray Metric

An annual bicycle ride weekend that features both sagged and unsagged rides with 20, 40 and 62-mile options. McPherson, KS.

Walnut Valley Metric

This fundraising ride for Prairie Travelers takes place in Winfield, Kansas and offers 35 and 65 mile options.

Heather's Ride

A Goddard, Kansas event offering 25, 50, and 75-mile routes through scenic south-central Kansas. The ride benefits the children of Heather's Camp for vision-impaired and blind youth.
Bicycle Rides and Events in Neighboring States
Other Related Events