Kansas Bicycle Rides & Events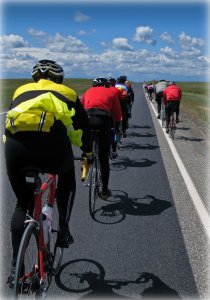 Kansas bicycle rides are scheduled around the entire state and throughout the year, particularly in the spring, summer, and fall. There are always new sights to see, new country to explore, and new friends to make. The big event of the year is the annual Biking Across Kansas tour that takes place each June, and attracts cyclists from all over the world, but there are many more rides to look forward to, whether you're into on-road or off-road cycling.
A Few Random Rides & Events
Bicycle X-Change Criterium Race

Cyclists from all over the Midwest will showcase their skill and fitness on a technical, 1.1 mile lap winding in and around the picturesque Riverside Oak Park and sweeping along the east bank of the Arkansas River.

Critical Mass Lawrence

Critical Mass Lawrence promotes the love of riding bicycles. On the last Friday of every month, cyclists meet to ride their streets to promote bicycle awareness.

Pasta 58 Benefit Ride

The annual Pasta 58 Bike Ride begins in Junction City, travels to Abilene, and back. Sponsored by the Junction City Recreation Department.

Salt City Criterium Classic

Cheer on semi-pro bicyclists as they take on this two-day family-friendly event in Hutchinson, Kansas.

Dirty Kanza 200

06-03-2017

The ultimate gravel grinder, the Dirty Kanza is an extremely challenging ultra-distance bicycling marathon event, starting and ending in Emporia, Kansas and covering 200 miles of blacktop, gravel, and dirt roads through the scenic Flint Hills.
Bicycle Rides and Events in Neighboring States
Other Related Events