Kansas Bicycle Rides & Events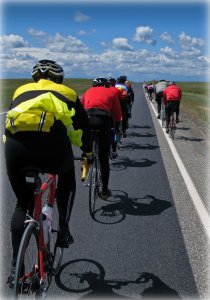 Kansas bicycle rides are scheduled around the entire state and throughout the year, particularly in the spring, summer, and fall. There are always new sights to see, new country to explore, and new friends to make. The big event of the year is the annual Biking Across Kansas tour that takes place each June, and attracts cyclists from all over the world, but there are many more rides to look forward to, whether you're into on-road or off-road cycling.
A Few Random Rides & Events
Sunflower State Games

Kansas's largest amateur sports festival, held annually over two weekends in July.

Sterling Old Fashioned 4th of July Bike Ride

07-04-2019

Celebrate Independence Day with a 20-mile bike ride in Sterling, Kansas.

Wicked Wind 100

The Wicked Wind 100, in early May, welcomes riders of all abilities for 25, 50, Metric Century, and 100-mile rides southwest of Wichita.

A bi-annual bicycle tour that follows roughly the same route as the old Santa Fe Trail, beginning in Santa Fe, New Mexico and heading northwest through Colorado and Kansas, before ending in New Franklin, Missouri.

Sand Creek Cyclocross Challenge

A cyclocross race taking place at Centennial Park in Newton, Kansas.
Bicycle Rides and Events in Neighboring States
Other Related Events