Kansas Bicycle Rides & Events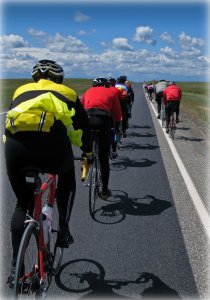 Kansas bicycle rides are scheduled around the entire state and throughout the year, particularly in the spring, summer, and fall. There are always new sights to see, new country to explore, and new friends to make. The big event of the year is the annual Biking Across Kansas tour that takes place each June, and attracts cyclists from all over the world, but there are many more rides to look forward to, whether you're into on-road or off-road cycling.
A Few Random Rides & Events
Tour de Lyon County

An annual gravel road bicycle event that takes place in Lyon County, Kansas. 105 miles.

MCC Flatlander

An annual charity ride for the Mennonite Central Committee in Newton, Kansas, with rides of 35, 45 and 65 miles.

Joseph Sheehan Road Race

An annual bicycle race from Leavenworth to Atchison, Kansas and back, with 50+ miles of challenging terrain.

Sunflower Suffrage Ride - South East Kansas

The Sunflower Suffrage Ride takes place in homage of Susan B. Anthony. The South East Kansas edition of the Sunflower Suffrage Ride offer a 15-mile route in Pittsburg, Kansas.

MMCT Salina 2 Day

A weekend of bicycle racing in Salina, Kansas, with a Road Race on Saturday and a Criterium on Sunday.
Bicycle Rides and Events in Neighboring States
Other Related Events