Kansas Bicycle Rides & Events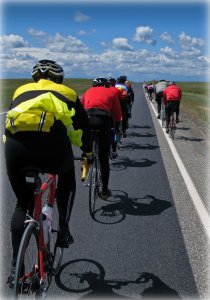 Kansas bicycle rides are scheduled around the entire state and throughout the year, particularly in the spring, summer, and fall. There are always new sights to see, new country to explore, and new friends to make. The big event of the year is the annual Biking Across Kansas tour that takes place each June, and attracts cyclists from all over the world, but there are many more rides to look forward to, whether you're into on-road or off-road cycling.
A Few Random Rides & Events
Miller Maurader's Monster Mash

Miller Maurader's Monster Mash is an annual 'dirty century' that takes place on the mountain bike trails at Miller's Meadow in Wichita, Kansas.

Cyclovia Topeka

A festival that celebrates cycling, wellness and activity in Topeka, Kansas.

The Bomb

An annual gravel road ride that takes place in Burlington KS, in conjunction with the Coffey County Fair, with 25, 50, and 100-mile routes.

Bike and Hike with the Birds

Enjoy the the amazing natural beauty of Quivira National Wildlife Refuge near Stafford, Kansas on this 15-mile gravel road ride.

Colavita Cup

A cyclocross race at Stump Park in Shawnee, Kansas.
Bicycle Rides and Events in Neighboring States
Other Related Events