Kansas Bicycle Rides & Events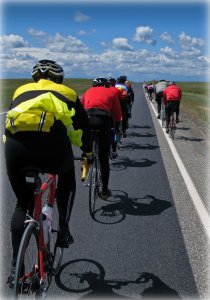 Kansas bicycle rides are scheduled around the entire state and throughout the year, particularly in the spring, summer, and fall. There are always new sights to see, new country to explore, and new friends to make. The big event of the year is the annual Biking Across Kansas tour that takes place each June, and attracts cyclists from all over the world, but there are many more rides to look forward to, whether you're into on-road or off-road cycling.
A Few Random Rides & Events
Baldwin City Bicycle Swapmeet

An annual event that takes place in Baldwin City, Kansas. Buy, sell, and swap bicycles, parts, and gear.

Tour of Lawrence

A three-day cycling race taking place over the Fourth of July holiday, featuring three events with professional, amateur, and youth divisions racing on the streets of Lawrence.

The Pumpkin Pedaler

An annual bike ride taking place in Hutchinson, Kansas. 25 and 50 mile routes.

The Series 60 Cyclocross features 7 races within 60 minutes of the Kansas City Metro.

Blanket Race Series

A fun, easy going, and affordable off-season mountain biking race series taking place in West-Central Kansas.
Bicycle Rides and Events in Neighboring States
Other Related Events