Kansas Bicycle Rides & Events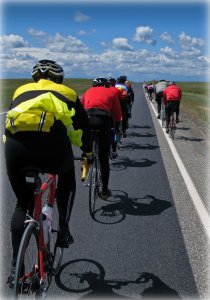 Kansas bicycle rides are scheduled around the entire state and throughout the year, particularly in the spring, summer, and fall. There are always new sights to see, new country to explore, and new friends to make. The big event of the year is the annual Biking Across Kansas tour that takes place each June, and attracts cyclists from all over the world, but there are many more rides to look forward to, whether you're into on-road or off-road cycling.
A Few Random Rides & Events
Pony Express 120 Gravel Dash

An annual gravel road race that takes place out of Marysville, Kansas and showcases the challenging terrain and rich Pony Express history of northeast Kansas. 66 and 120 mile options.

Bike 4 the Brain

Bike for the Brain is a Mission, KS ride that promotes increased understanding about brain-based illnesses. There are 3, 10, 33, 55, and 72 mile options.

Veterans Gravel Grind

A gravel road bicycle event that takes place in Gridley, Kansas, as part of the annual Gridley​ Independence Day Celebration.

Bishop's Bicycle Challenge

A fundraising bicycle ride to benefit the United Methodist Open Door, a Wichita agency offering food/clothing/shelter for those in need. 20-mile, 50K, and 100K routes.

Bike MS: Kansas City Ride

Bike MS is a two-day bicycling fundraiser for the National Multiple Sclerosis Society. The 150 mile, two-day ride begins in Olathe or Topeka, overnights in Lawrence, and ends in Olathe.
Bicycle Rides and Events in Neighboring States
Other Related Events