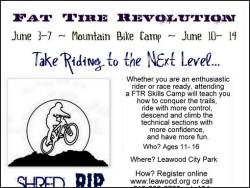 The Leawood City Park Mountain Bike Camp takes place in Leawood, Kansas. Whether you are an enthusiastic rider or race ready, attending a FTR Skills Camp will teach you how to conquer the trails, ride with more control, descend and climb the technical sections with more confidence, and have more fun.
Participants will receive group and individual instruction on a variety of skill and techniques ranging from basic to advanced. The skills and techniques learned will provide riders from a range of age, skill and experience a solid foundation to continue to improve as a rider. Participants will ride mixed terrain from singletrack, grass and pavement. In addition, participants will learn basic bike setup and maintenance through hands-on experience and instruction.
The camp is open to ages 11-16, and takes place at Leawood City Park. The camp consists of five 2.5-hour sessions. You can register online at leawood.org or call 913-339-6700 ext. 154. The cost for residents is $85, and $95 for non-residents. Contact dan_schaeffer@hotmail.com for more information.
Sorry, but this listing is not currently active;
info shown is the last known data...
Event Info:
Date
Ride
06-03-2013

Leawood City Park Mountain Bike Camp

-

A mountain biking skills camp for kids that takes place in Leawood, Kansas.