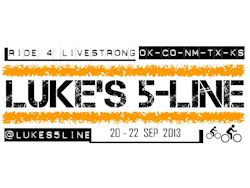 Luke's 5-Line Ride is a unique fundraising cycling event to benefit the Prostate Cancer Foundation and LIVESTRONG, raising funds to help find a cure for men's specific cancer (prostate) and support education and advocacy for those diagnosed with and survivors of cancer along with their friends and families.
The event has different start locations depending on the distance you chose but all end in the shadow of the highest point in Oklahoma, Black Mesa. There are four route lengths for riders. Cyclists can participate in a 120-mile (crossing 5 state lines: CO, NM, OK, TX and KS), 95-mile (crossing 4 state lines: CO, NM, OK and TX), 60-mile (Santa Fe Trail: CO, NM, OK), 40-mile (crossing 3 state lines: CO, NM, OK) ride of their choice. This is a great weekend of bunkhouse camping, pre/post ride meals, after-ride celebration includes live entertainment and more!
Event Info:
Date
Ride
09-20-2013

Luke's 5-Line Ride

-

A noncompetitive event that ends in Black Mesa, Oklahoma and takes riders on a 100+ mile journey across five state lines: Kansas, Oklahoma, Texas, New Mexico and Colorado.