Nebraska Running Events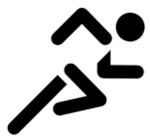 Running, whether its in the form of road running (marathons, half-marathons, or shorter distances) or trail running (off-road, often on wooded mountain bike or equestrian trails), is always a popular sport, combining a physical challenge with a low cost of entry.
The following are a few of the many upcoming running events in the state of Nebraska:
Sorry, but there are currently no Running events available in Nebraska. Feel free to search for events at Active.com.
Other Nebraska Events
Running Events in Neighboring States

Note: Event links lead to Active.com, where you can learn more about the event and register to participate. [Learn More]