Oklahoma Triathlons and Duathlons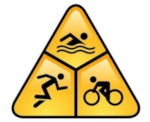 Triathlons (running, swimming, and bicycling) and Duathlons (running and biking) have become popular athletic pursuits for many people, and there are numerous events throughout the state all year long.
The following are a few of the many upcoming triathlon and duathlon events in the state of Oklahoma:
Sorry, but there are currently no Triathlon events available in Oklahoma. Feel free to search for events at Active.com.
Other Oklahoma Events
Triathlons in Neighboring States

Note: Event links lead to Active.com, where you can learn more about the event and register to participate. [Learn More]