Kansas Bicycle Racing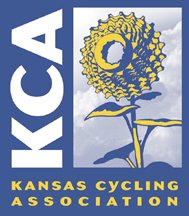 Kansas is home to all types of bicycle racing, including road racing, circuit racing, time trials, stage racing, criteriums, cyclocross, mountain bike races, triathlons, duathlons, and much more.
The Kansas Cycling Association (KCA) is the organization responsible for administering all USACycling (USAC) races and state championship events in the state of Kansas, and sanctioning all road, track, mountain bike and cyclocross events. The KCA also maintains the official Kansas Race Schedule.
A good source for Kansas bike racing news is LocalCycling.com.
For bicycle racing in neighboring states, check out:
Some Annual Kansas Bicycle Races:
360 Cup Cross

Cyclocross racing at Centennial Park in Lawrence, Kansas, hosted by 360 Racing.

Admire Fall Festival Bike Ride

18-mile or 47-mile bicycle rides on the Flint Hills Nature Trail in Admire, Kansas.

ALS Road Race Series

The ALS Road Race Series takes place each March at Lake Perry, Kansas and provides early-season road race training on a fun and challenging course.

Bazaar Road Race

An annual event that takes place in the Flint Hills of east-central Kansas on a hilly out-and-back course on a scenic byway, and the famous Kansas wind often plays a factor.

Bicycle X-Change Criterium Race

Cyclists from all over the Midwest will showcase their skill and fitness on a technical, 1.1 mile lap winding in and around the picturesque Riverside Oak Park and sweeping along the east bank of the Arkansas River.

Big Ring Gravel Road Race Series

An annual gravel road racing series held in the Wichita, Kansas area.

Blanket Race Series

A fun, easy going, and affordable off-season mountain biking race series taking place in West-Central Kansas.

Bleeding Kansas Gravelduro

09-22-2018

A gravel road event taking place in Manhattan, Kansas.

A series of five challenging gravel grinders in south central Kansas and Oklahoma.

Boulevard Cup

A cyclocross race at Stump Park in Shawnee, Kansas

Camp Alexander MTB Race

A mountain bike race and trail run that takes place on the Camp Alexander trails near Emporia, Kansas.

Capital Cup Cyclocross at the Clock Tower

The annual Capital Cup Cyclocross Race in Topeka, Kansas is held in conjunction with the Boulevard Cup in Kansas City, making a "full cup weekend."

Cathedral Criterium

A two-day criterium series in Kansas City, Kansas to raise money for FreeWheels for Kids, a nonprofit that empowers at-risk kids with cycling.

Cool Hand Luke Gravel Grinder

An epic bicycle event through the countryside of Leavenworth County, Kansas. 25, 50 and 100-mile route options.

Coronado's Challenge

An annual mountain bike race that takes place at Coronado Heights, near Lindsborg, Kansas, with downhill, uphill, and cross-country races.

Cross Out Cancer

A cyclocross race hosted by the Livestrong Army of KC, at Shawnee Mission Park, Lenexa, KS.

Cruise the Blues

Cruise the Blues is a mountain bike festival taking place at Palen Family Farms located east of Tipton in North Central Kansas, and featuring 13 miles of trails winding through the creeks, pastures, native grass, and croplands on the farm.

Dirty Kanza 200

The ultimate gravel grinder, the Dirty Kanza is an extremely challenging ultra-distance bicycling marathon event, starting and ending in Emporia, Kansas and covering 200 miles of blacktop, gravel, and dirt roads through the scenic Flint Hills.

Elrod's Cirque

A gravel grinder set in the southern Flint Hills of Kansas, starting and ending in downtown Winfield, with 16, 61, and 121 mile route options. Part of the Boneshaker Gravel Series.

Grand Prix HPT

Grand Prix HPT is an "avondcross" event (Flemish for evening 'cross), at the Heartland Park Topeka dirt track in Topeka, Kansas.

Grassland Grind

A gravel bike race in historic Council Grove, Kansas. 9, 28, and 45-mile route options.

Gravel Grinder National Championship

An annual Lawrence Kansas event presented by the United States Endurance Cycling Federation.

Gravelleurs Raid

A 100+ mile gravel road bicycle race starting at and finishing in Lawrence, KS.

Hudson Chicken Ride

An annual event that takes place on low-traffic roads around Hudson, Kansas. Come and enjoy the hospitality of rural Kansas!

Jayhawk Cycling Classic

An annual race weekend organized by the Kansas University Cycling Team, with a road race and criterium.

Jesse Blancarte 10K Time Trial

An annual bicycle race that takes place at New Century Air Center in Gardner, Kansas.

Johnson's Garden Center CycloCross Race

A cyclocross race taking place at Planeview Park in Wichita, Kansas, located on the site of a former Soap Box Derby track, with a challenging course.

Joseph Sheehan Road Race

An annual bicycle race from Leavenworth to Atchison, Kansas and back, with 50+ miles of challenging terrain.

Joules Cross

An annual cyclocross race that takes place in Lawrence, Kansas.

Kansas Adaptive Cycling Omnium

The Wichita Adaptive Cycling Omnium has been a staple of the U.S. Handcycling Series for many years, and includes three races, as well as a recreational ride.

Kansas Fat Tire Festival

The Kansas Fat Tire Festival is a two-day mountain bike event at Lake Wilson, on some of the most picturesque bike trails in Kansas.

Kechi Time Trial

The Kechi Time Trial takes place on a fast flat course in Kechi, Kansas. It is the first event in a weekend of exciting racing in South Central Kansas.

Late Night Under The Lights Series

A series of bicycle training races for both kids and adults in Leavenworth, Kansas.

Lost Trail CX

An annual two-day cyclocross race that takes place at the Louisburg Cider Mill in Miami County, Kansas.

MMCT Salina 2 Day

A weekend of bicycle racing in Salina, Kansas, with a Road Race on Saturday and a Criterium on Sunday.

Open Range Gravel Race

A gravel road race through the scenic and rugged Gypsum Hills of Kansas. 100k and 200k distance options.

Pony Express 120 Gravel Dash

An annual gravel road race that takes place out of Marysville, Kansas and showcases the challenging terrain and rich Pony Express history of northeast Kansas. 66 and 120 mile options.

A gravel race series consisting of four races held annually, on courses around Wichita, Kansas.

Salt City Criterium Classic

Cheer on semi-pro bicyclists as they take on this two-day family-friendly event in Hutchinson, Kansas.

Sand Creek Cyclocross Challenge

A cyclocross race taking place at Centennial Park in Newton, Kansas.

The Series 60 Cyclocross features 7 races within 60 minutes of the Kansas City Metro.

SMPCX

A Cyclocross Race that takes place at the Theater in the Park venue in Shawnee Mission Park, Shawnee, Kansas.

SPECS Wichita Riverfest Criterium Race

Cyclists from all over the Midwest will showcase their skill and fitness on a technical, 1.2 mile lap winding in and around downtown Wichita and sweeping along the east bank of the Arkansas River.

Spring Fling Criterium Series

An annual series of training races taking place at Clinton Lake near Lawrence, Kansas. One of the longest running crit series in America and the longest in the Midwest.

State Line Road Race

The State Line Road Race takes place along the Kansas/Missouri state line, on an 8.5-mile loop that runs clockwise on 175th, State Line, 199th, & Mission.

Sunflower State Games

Kansas's largest amateur sports festival, held annually over two weekends in July.

Sunflower State Games Mountain Biking

The Sunflower State Games Mountain Biking race takes place on the Lake Perry State Park Mountain Bike Trails.

Switchgrass Mountain Bike Race

A grassroots cross country mountain bike race on the premier Midwest IMBA rated trail. Proceeds to benefit Switchgrass trail maintenance and improvement.

The Hondo

09-15-2018

A 100-mile gravel fondo going through the Flint Hills starting out of Wichita Kansas area.

Tour de Lizard Fat Tire Classic

The Tour de Lizard Fat Tire Classic is an annual off-road mountain bike race taking place at Camp Horizon in Arkansas City, Kansas.

Tour of Lawrence

A three-day cycling race taking place over the Fourth of July holiday, featuring three events with professional, amateur, and youth divisions racing on the streets of Lawrence.

Veterans Cyclo Cross

11-11-2018

An annual cyclocross race taking place at the Veterans Administration Hospital in Leavenworth, Kansas.

Wicked Wilson 100

A tough but fun gravel race/ride that takes place in the hill country around Wilson State Park near Wilson, Kansas. 102 miles with full support.

Wildcat Gran Prix

An annual race weekend organized by the Kansas State University Cycling Team, with a road race, criterium, and team time trial.

Wintery Mix CX Series

The Wintery Mix CX Series features two races to finish the Kansas City cyclocross season.

Wyco's Revenge MTB Race

An annual Mountain Bike Race that takes place on the awesome Wyandotte County Lake Park Trails in Kansas City, Kansas. Find out why these trails are called 'Kansas City's Best Kept Secret'.
Kansas Bicycle Racing Teams:
360 Racing

360 Racing is a bicycle racing team based in Overland Park, Kansas which competes in road, mountain bike, and cyclocross cycling events throughout the Midwest.

Big D Cycling

Big D Cycling is a Shawnee, KS bicycle racing team that participates in local, state and national road and cyclecross events.

GP Velotek

A bicycle racing team is comprised of youth, junior and senior riders who are growing the sport and their individual abilities while having fun in a supportive environment.

Kansas State University Cycling

The KSU Cycling Team is made up of cyclists ranging from beginners to licensed competitive racers, and competes against other universities and colleges within the North Central Collegiate Cycling Conference.

Kansas University Cycling

A cycling team for both graduate and undergraduate students, supporting both competitive and recreational road, mountain, and cyclocross riders.

Midwest Velo

Midwest Velo is a bicycle racing team in Kansas City, dedicated to raising public awareness of the fight against cancer throughout the Kansas City region.

Osceola Velo Club

Osceola Velo Club is an unsponsored, USA Cycling registered, road racing bicycle club located in Lawrence, Kansas that specializes in the development of the novice road racer.

River City Racing Club

A Wichita, Kansas bicycle racing team that competes in events throughout the midwest, and hosts races in the Wichita region.