Roadside Kansas: A Traveler's Guide to its Geology and Landmarks?Second Edition, Revised and Updated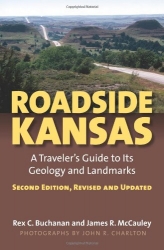 Price: $19.95
Buy Now
Two decades after its first publication, Roadside Kansas remains the premier guide to the geology, natural resources, landmarks, and landscapes along nine of the Sunflower State's major highways. During that span, however, many aspects of the Kansas landscape changed: the growth of some towns and near disappearance of others, the expansion of highways, the development of industry. Even the rocks themselves changed in places as erosion took its relentless toll. More broadly, there have been changes in the science of geology. This new edition reflects all of these changes and thoroughly updates the previous edition in ways that reinforce its preeminent status.

Covering more than 2,600 miles, Buchanan and McCauley organize their book by highway and milepost markers, so that modern-day explorers can follow the road logs easily, learning about the land as they travel through the state. Featuring more than 100 photographs, drawings, and maps, the book also provides deft descriptions of fascinating contemporary and historical features to be seen all across Kansas.

Especially in an economic era that has encouraged all of us to travel closer to home, the new edition is sure to be a hit with families from Kansas and the region who decide to explore and learn more about the state and its distinctive wonders. They'll discover what Buchanan and McCauley have known for a long time: Kansas highways provide much more than passage to Colorado or some other state. They are destinations in their own right.

Published for the Kansas Geological Survey.
Used Book in Good Condition
By: Rex Buchanan, Published 2010-03-05 by University Press of Kansas
Eligible for free shipping!
Certain content that appears here comes from Amazon Services LLC. This content is provided 'as is' and is subject to change or removal at any time. Pricing and availability accurate as of 2020-01-20 09:57pm CST; please follow the links for current pricing.