KANSAS OFF THE BEATEN PATH 9ED (Off the Beaten Path Series)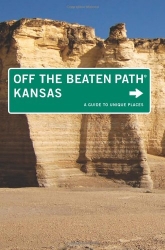 Price: $14.95
Buy Now
Kansas Off the Beaten Path features the things travelers and locals want to see and experience––if only they knew about them. From the best in local dining to quirky cultural tidbits to hidden attractions, unique finds, and unusual locales, Kansas Off the Beaten Path takes the reader down the road less traveled and reveals a side of Kansas that other guidebooks just don't offer.
Used Book in Good Condition
By: Smarsh, Published 2010-06-15 by Globe Pequot
Eligible for free shipping!
Related Products
Certain content that appears here comes from Amazon Services LLC. This content is provided 'as is' and is subject to change or removal at any time. Pricing and availability accurate as of 2020-01-28 02:02am CST; please follow the links for current pricing.