Kansas Curiosities: Quirky Characters, Roadside Oddities & Other Offbeat Stuff (Curiosities Series)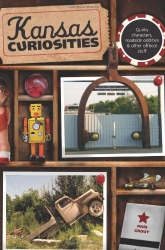 Price: $16.95
Buy Now
The definitive collection of Kansas's odd, wacky, and most offbeat people, places, and things, for Kansas residents and anyone else who enjoys local humor and trivia with a twist.
Used Book in Good Condition
By: Pam Grout, Published 2010-06-15 by Globe Pequot Press
Eligible for free shipping!
Certain content that appears here comes from Amazon Services LLC. This content is provided 'as is' and is subject to change or removal at any time. Pricing and availability accurate as of 2020-01-20 09:12pm CST; please follow the links for current pricing.