The Complete Handlebar Guide to Bicycling the TransAm Virginia to Oregon/Washington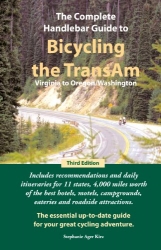 Price: $19.95
Buy Now
Completely revised and updated THIRD Edition. Packed with photos it includes recommendations and daily itineraries for 11 states, 4,000 miles worth of the best campgrounds, hotels, motels, eateries, roadside attractions and cycling resources. The essential up-to-date guide for your great cycling adventure. Lightweight and easily fits in your handlebar bag. Great for either short or long trips with daily estimated mileage and elevation gain. Don't even think about leaving home without it.
By: Stephanie Ager Kirz, Published 2008-10-01 by White Dog Press, Ltd
Eligible for free shipping!
Certain content that appears here comes from Amazon Services LLC. This content is provided 'as is' and is subject to change or removal at any time. Pricing and availability accurate as of 2019-09-21 02:35pm CDT; please follow the links for current pricing.*