Ghost Towns of Kansas: Volume Two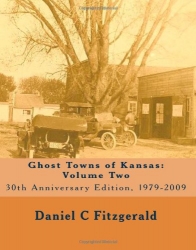 Price: $13.45
Save $6.50!
Buy Now
This is the second volume in the Ghost Towns of Kansas series. Originally published in 1979, this 30th anniversary reissue documents the histories of a hundred exciting Kansas ghost towns that grew, prospered, and died. This volume received numerous awards and accolades after it was released, including six related news emmy nominations and a rock album. The 30th anniversary reissue has been lovingly edited and it includes a brand new introduction by the author. The book has been out of print for over twenty years.
By: Mr Daniel C Fitzgerald, Published 1979-07-15 by CreateSpace Independent Publishing Platform
Related Products
Certain content that appears here comes from Amazon Services LLC. This content is provided 'as is' and is subject to change or removal at any time. Pricing and availability accurate as of 2019-12-14 10:25am CST; please follow the links for current pricing.