Nebraska Off the Beaten Path®: Discover Your Fun (Off the Beaten Path Series)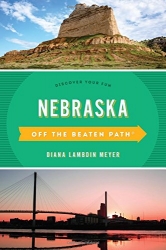 Price: $13.39
Save $4.56!
Buy Now
Tired of the same old tourist traps? Whether you're a visitor or a local looking for something different, Nebraska Off the Beaten Path shows you the Cornhusker State with new perspectives on timeless destinations and introduces you to those you never knew existed—from the best in local dining to quirky cultural tidbits to hidden attractions, unique finds and unusual locales. So if you've "been there, done that" one too many times, get off the main road and venture Off the Beaten Path.
By: Diana Lambdin Meyer, Published 2018-03-01 by Globe Pequot
Eligible for free shipping!
Certain content that appears here comes from Amazon Services LLC. This content is provided 'as is' and is subject to change or removal at any time. Pricing and availability accurate as of 2020-01-20 09:12pm CST; please follow the links for current pricing.