Bicycle Links and Resources from Neighboring States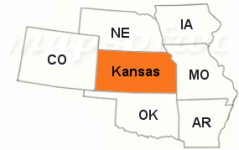 As proud as Kansans are of the cycling opportunities in our state, we realize that there's a whole wide world out there beyond our borders, and some of it even offers some pretty fair cycling in its own right. The following are a few links to web sites that cover cycling in our neighboring states:
A Few Random Links
A personal blog covering bicycle education and advocacy in Central Arkansas.

An organization whose mission is to promote bicycle access, safety and education throughout Oklahoma.

Missouri Trails Society

The Missouri Trails Society is an organization dedicated to the task of creating and maintaining off-road biking and hiking trails in the Southwest Missouri Region.

BikeWalkKC is Greater Kansas City's regional voice for pedestrians and bicyclists.

The leading news and information source for Oklahoma's bicycling community.