Bicycle Links and Resources from Neighboring States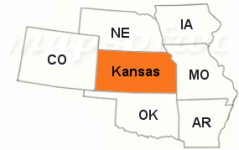 As proud as Kansans are of the cycling opportunities in our state, we realize that there's a whole wide world out there beyond our borders, and some of it even offers some pretty fair cycling in its own right. The following are a few links to web sites that cover cycling in our neighboring states:
A Few Random Links
A blog covering cyclocross in Eastern Nebraska and the surrounding region, including up-to-date information about the Nebraska Cyclocross Series.

Highlights mountain bike trails in the Ozark Mountains region of southern Missouri and northern Arkansas.

An organization working to promote Iowa cycling as safe and enjoyable recreation and transportation.

Provides bicycling information and advocacy in the St. Louis, Missouri area, with downloadable and printed maps of on-street bicycle routes.

OKC Bicyclist

your source for cycling information in Oklahoma City, Oklahoma, with up-to-date information on events, routes, equipment and general news about cycling.