The following are some hand-picked bicycling-related news items from Kansas and neighboring states, for January 2, 2013:
Bicycling News from Kansas
Regional Bicycling News
Upcoming Kansas Bicycling Events
Bicycling events are, understandably, thin this time of year, but there are a few races going on in January:
Sunday, January 6, 2013 — Wintery Mix CX #1 — A cyclocross race at Mission Farms Shopping Center in Leawood, KS – Part of the Wintery Mix CX Series. The second event in the series is February 10th at the same location.
Sunday, January 13, 2013 — Blanket Series: The Old Forest — The Old Forest in Great Bend, KS is part of the Blanket Series of mountain bike races.
Saturday, January 26, 2013 — Cancer-Thon – Santa Fe Trails Bicycle Shop presents the annual Cancer-Thon relay race at Abele's Field in Leavenworth, Kansas. 913-682-2444
The only other regional bike ride on the calendar at this point is the Triple D Winter Race, which is an endurance trail event that traverses Dubuque County, Iowa by bike, ski or foot. It takes place on January 20th.
Also of note is the route announcement for Biking Across Kansas, which takes place on "Kansas Day", January 29, to commemorate the state's birthday.
See also: Kansas Ride Calendar, Regional Ride Calendar
Personal Notes
I ended 2012 with just over 5600 miles, almost 50/50 between my vintage 10-speed Puch road bike and my Surly Long Haul Trucker touring/utility bike, as well as a few hundred miles on my Dahon folder. My longest ride of the year (in distance) was 133 miles; longest ride (in pedaling time) was about 10 hours. A good year! Hoping for more of the same in 2013. I have a very rough goal of 100 miles per week, on average, or 5200 for the year. (Incidentally, if you have a GPS cyclocomputer, or log your rides on a smartphone, you're invited to join the Kansas Cyclist group on Strava.)
I wrapped up the year with a memorable ride — 50 miles on my 50th birthday! It was a mixed-surface ride — paved roads, gravel roads, minimum maintenance roads, and trails. A friend and I encountered some treacherous ice-covered gravel, a snowy singletrack trail, a dry lake bed, a missing bridge, and an evil flat tire that seemingly took forever to fix. Keith wrote it up on his blog: The Last Ride of 2012. A few pics from the ride:


Note: This is the very first installment of the Sunflower Cycling News. I'm going to try to make this a weekly feature, published each Wednesday, though I wouldn't be surprised if that schedule, and the content and format of the pieces, evolves over time. Comments and suggestions are welcomed!
---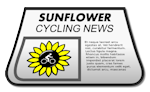 The Sunflower Cycling News is a periodic publication of Kansas Cyclist, featuring bicycling news from Kansas and neighboring states.
If you have a news item or upcoming event you'd like to share, please contact Kansas Cyclist with details.
Post tags: Digest