The 2015 National Bike Challenge is now complete, and Kansas finished at #9 in the state rankings, with 1179 riders logging 539,989 miles from May 1 through September 30.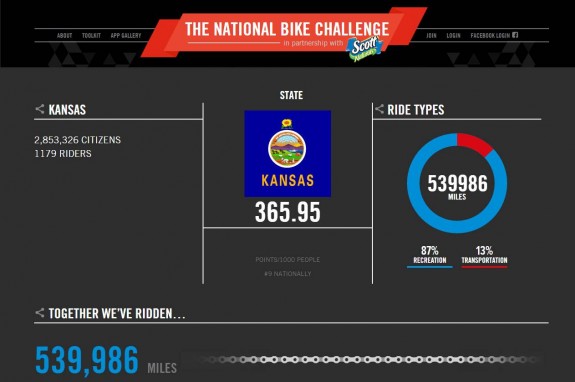 Among neighboring states, Kansas was middle-of-the-pack, ranking behind Nebraska (#2) and Colorado (#5), but ahead of Iowa (#13), Arkansas (#32), Oklahoma (#40), and Missouri (#48).
The top biking cities in Kansas were: Wichita, Topeka, Lawrence, Great Bend, Iola, Overland Park, Derby, Olathe, Lenexa, and Tecumseh.
The top Local Challenges in Kansas were: Bike Allen County (#6 nationally), Bicyclists of Central Kansas (#10), Kaw Valley Bicycle Club (#22), Bike Walk Wichita (#40), and Healthy Harvey Coalition (#45).
Congrats to Eric Nordgren for taking the crown as the #1 male rider in Kansas (10950 miles), and Shelli Shipps for leading the pack as the number #1 female rider in the state (5005 miles). We had a number of riders who rode every single day during the challenge (153 days!): Eric Nordgren (Topeka), Roger Frans (Marion), Greg Wolf (Great Bend), Randy Rasa (Iola), Jason Jester (Derby), Elizabeth Cox (Iola), Dale Lebar (Derby), Glenda Miller (Newton), John Radenberg (Claflin), Neil Frizell (Great Bend), and Eric Johnson (McPherson).
Congrats to all the riders who participated! Keep on pedaling until the next Challenge…
Post tags: National Bike Challenge