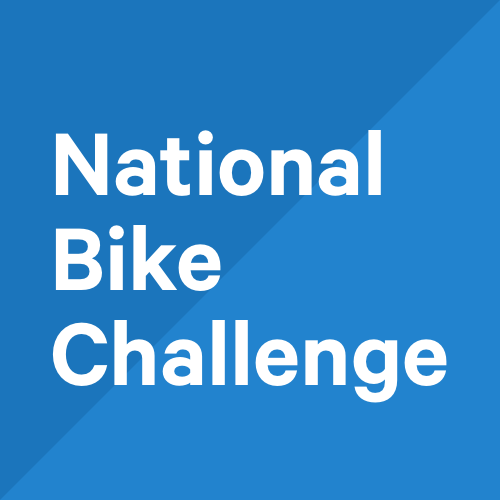 The 2017 edition of the National Bike Challenge runs from May 1st through September 30th. Like prior editions of the program, its aim is to get more people riding bikes, more often.
The National Bike Challenge does this by promoting a friendly competition, based on the number of "points" you accumulate. The formula for calculating points in the Challenge is really simple: it's 20 points for each day you ride at least 1 mile, plus 1 point for each mile.
People can compete in a number of different ways:
Individually, on national, state, community, school, workplace, and team leaderboards
As teams
As workplaces
As schools
As communities
As leagues
As states
In addition, there are "Advocacy Challenges" of one or more counties. (Advocacy, health, and community groups can host a challenge; contact the folks at the League of American Bicyclists for more info.)
Why Compete in the National Bike Challenge?
It's fun!
It's free!
You have a chance to win some great prizes, which are awarded randomly each month to participating riders. THe more you ride, the better your chances to win.
For state, civic, or personal pride.
For friendly competition. Out-doing your friends, co-workers, or neighboring communities feels so good!
By logging your miles, and sharing your results on social media, you'll be an inspiration for your friends. You never know who might start riding because they saw how much fun you're having.
The discipline of riding regularly and logging your miles helps instill a positive habit in your life.
You'll be surprised at how many miles and memories you rack up!
In addition to these personal reasons, there are also some larger considerations. By recording your miles, you're helping to provide data that advocates can use to help make the case for improving bicycling conditions in your community. Historically, statistics for ridership have been notoriously difficult to gather, and this lack of data has made it difficult to convince policy-makers to invest in better bicycling infrastructure. Having solid numbers helps immensely to bolster the case.
How To Compete in the National Bike Challenge
New for 2017, the National Bike Challenge exclusively uses Strava as the ride-logging interface. Like the Challenge itself, Strava is free. Strava is, in effect, a social network for cyclists and runners. It offers a wonderfully supportive mechanism for keeping track of where, when, and how far you rode, and seeing the rides from other people in your area.
Strava allows you to log rides in a number of ways:
You can log miles manually
You can use a smartphone app to record your rides
You can use a GPS activity tracker (e.g. Garmin, Wahoo, Polar, Lezyne, etc.) to record your ride, and automatically upload it to Strava
If you already use another fitness web site, such as Endomondo or MapMyRide, you can use a third-party sync application such as FitnessSyncer or Tapiriik to transfer your data to Strava
Regardless of how you get your data into Strava, once it's there it will be automatically (and in most case, instantaneously) to the National Bike Challenge web site.
To join a National Bike Challenge group (a team, workplace, school, or bike shop), search for it and join it from Strava, which will then relay that to info to the National Bike Challenge.
One note: The National Bike Challenge relies on you to properly enter your city on Strava. Please be sure to enter your city in "city, state" format, with correct spelling!
With correct city data, the National Bike Challenge will automatically assign you to the proper state, community, and advocacy challenge (if there is one in your area).
Sign up for the National Bike Challenge
If you have problems, please visit the National Bike Challenge support site to get assistance.
Kansas National Bike Challenge Links
You'll want to be sure to check out the National Bike Challenge Kansas Leaderboard.
Some Kansas-related teams: Kansas Cyclists Team (on Strava), Bike Prairie Spirit Team (on Strava), Bike Walk Wichita Team (on Strava), Southeast Kansas Cycling Team (on Strava), Team Velo Plus (on Strava), The Manhattan Project Team (on Strava), Long Distance Cycling – BWW Team (on Strava), Bicyclists of Central Kansas (on Strava).
Hope to see you on the leaderboards!
Post tags: National Bike Challenge