For the first weekday commute of Bike Week 2010, Kansas City's WDAF-TV interviewed Bill Poindexter, who's been riding a bicycle for transportation for over ten years, and has been completely car-free for the last year:
Read the full story: Metro Bicyclist Shows It's Possible to Live in KC Without a Car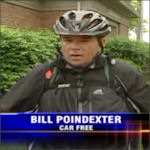 You might remember that we talked with Bill on Kansas Cyclist Podcast Episode 15, so check that out if you'd like to learn more about Bill's bicycle adventures.
Also be sure to visit Bill's blog, carfreeAmerican, for frequent advice and tips on getting around by bike, and for interviews with other people living car-free or car-lite lifestyles.
Finally, get all the details on Kansas City Bike Week, visit bikekc.org.
Post tags: Kansas City