The Kansas Department of Wildlife, Parks and Tourism (KDWPT) has announced that Kansas has opted in to federal funding for recreational trails in the state for the coming year:
The State of Kansas will be back in the Federal Recreational Trails Program for Federal Fiscal Year 2013, which begins on October 1, 2013.

The grant program provides eighty percent matching funds, on a reimbursement basis, for eligible recreational trail and trail-related projects. Generally, overhead or administrative costs will not be funded from this program, but a portion of these costs may be used as part of the local match. The objective of the program is to get trails and trail facilities on the ground and not to fund administration. All projects selected must fall into one or more of three categories: motorized, non-motorized, or diversified recreational trail or trail-related projects. Proposals that provide for improved ADA and environmental impacts will receive a high priority. Projects that provide for motorized recreation activities are encouraged, as 30% of the funding is to be devoted to motorized projects.
Last year, Kansas Governor Brownback created something of a hullabaloo by opting out of the federal Recreational Trails Program, turning down $1.3 million in dedicated trails funding, one of only two states in the nation to do so. After widespread negative media attention, and some very impressive grass-roots advocacy from everyday citizens, the administration soon announced that it would instead be investing $2 million in trails.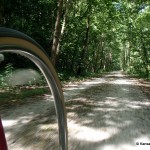 I haven't seen a number attached to the fiscal year 2013 funding, but it's good to see Kansas not being a hold-out again.
On the other hand, perhaps last year's opt-out, the significant blow-back, and the subsequent funding bump, was ultimately a good thing. The $2 million ended up being split among 16 projects, with the biggest chunk ($900,000), going towards work on the Flint Hills Nature Trail, with other significant grants including $62K for Prairie Spirit Trail State Park maintenance equipment, $52K for the Wallace Park Trail in Paola, and $56K for the Katy Hike and Bike Trail in Chanute, among others.
The Rails-to-Trails Conservancy, is celebrating the fact that 49 of 50 states have now opted in to Recreational Trails Program funding:
Under the current federal transportation law, each year, governors can opt-out of the Recreational Trails Program — one of the top national funding sources for rail-trails and other pathways — and divert these trail-user funded dollars to other transportation projects, like highways.

Together with our coalition partners — and the support of thousands of Rails-to-Trails Conservancy members and advocates like you — we've worked all summer to make sure governors across the country know how important this program is for building healthy communities and strong economies.

And it's paid off: Forty nine states (all except Florida) have chosen to remain in the Recreational Trails Program for the next year!
The Conservancy suggests that we thank our Governor, and that is an outstanding idea.
You can use the handy online form to send a message of thanks to Governor Brownback and KDWPT for supporting trails in Kansas. Or you may contact the Governor by phone at 877-579-6757.
Taking a few minutes to express your appreciation goes a long way to ensuring that trail funding remains a priority in future years.