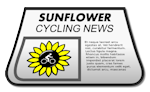 The Sunflower Cycling News is a periodic publication of Kansas Cyclist, featuring a compendium of hand-picked bicycling-related news items from Kansas and neighboring states.
The following is a recap of recent bicycling news from the region, as well as a look ahead to upcoming rides, races, and bicycling events coming up.
---
Bicycling News from Kansas
College Blvd Public Meeting in Olathe September 4th
Lenexa and Olathe are planning to widen College Blvd (111th Street), and the open house is a good opportunity to impress upon them the need for safe bicycling access on, along, and across this major arterial roadway. If you're unable to attend, and have an opinion you'd like to express, comments may be sent to Robyn Arthur rarthur@hntb.com [link]
Leawood Seeking Public Input at 3 Bike/Pedestrian Plan Workshops
"The City of Leawood has announced three workshops for gathering public input on their evolving bicycle and pedestrian transportation plan. Additionally, a public survey has been set up on-line to learn about your riding, walking and running activities in Leawood." [link]
The workshops are September 9, 16, and 17. Survey
Marysville Depot group seeks developer
"A preservation group working to save Marysville's historic Union Pacific depot continues to work with the railroad and hopes to find a developer soon who is interested in working with the non-profit to develop area surrounding the 1929 train station. The group envisions converting the depot itself into a community center offering railroad education, revolving exhibits, a railroad library, hands-on activities for children, a trailhead for the Blue River Rail Trail, a bike shop, souvenir shop and other potential uses." [link]
Hundreds compete, complete Gorilla Century bike ride in Pittsburg
"Saturday was the annual Gorilla Century bike ride, with hundreds of riders from as far as McKinley, Texas, taking part in the 12th edition of the ride. Organizers said the Gorilla Century has garnered a reputation as one of the most hospitable rides in the Midwest. Riders completing the 100-mile ride visited Big Brutus after leaving Pittsburg, then circled around to Arma, Mulberry and Arcadia before returning to Pittsburg many hours later." [link]
Cherokee County Seeks Cycling Tourists
"Steve Bolek, of Baxter Springs, is working to implement a bike trail which could potentially loop down through Oklahoma, through Kansas into Missouri and back. Bicyling is popular right now and Bolek said such a trail would bring visitors to the area. Don Snow, of the Baxter Springs city council, said tourism, like any other form of economic development takes time. 'It takes time, it takes a vision for what it can be. Being on Route 66 we should be the hub of activity.'"
Bike MS looks to raise tens of thousands of dollars for research
"It's the most important fund raiser of the year for research into multiple sclerosis with more than two hundred cyclists riding thousands of miles to help people who's mobility has been taken away by the debilitating disease. Bike MS is scheduled for September 7 and 8 in Pratt with a ride through scenic roads and highways. The Pratt ride is expected to raise $125,000 for MS research with similar rides around the nation expected to bring in millions of dollars more." [link, Bike MS: Wichita Ride]
Topeka needs more volunteers for bike/ped count
"The city of Topeka says it needs 15 more volunteers to carry out the first of what is expected to be an annual count of the city's bicycles and pedestrians. The count will take place from 10 a.m. to noon and 5 to 7 p.m. Thursday, Sept. 12, then from noon to 2 p.m. Saturday, Sept. 14. Rain dates are Wednesday, Sept. 18, and Saturday, Sept. 21. Volunteers may sign up online." [link]
Charges Dropped Against Driver That Injured Young Topeka Bicyclist
"Prosecutors have dropped charges against the driver of a car that hit a child riding his bicycle. Charles Cashman had faced counts including driving without valid license or insurance, illegal tag and a stop sign violation. 12-year-old Nicholas Tunstall needed surgery for injuries including a broken collar bone and pelvis." [link]
Regional Bicycling News
— Arkansas: Cyclists Upset After Tacks Flatten Their Tires — "A popular Central Arkansas bike path was littered with potentially dangerous spikes during a charity event. Things started off normal during the Second Annual Bike and Hike for ALS around Two Rivers Park, that's until bikes with flat tires started to pop up everywhere. One woman says it was no accident. Detectives say there's no way to know if this was done on purpose because the tacks could've come from a truck passing by. But with tacks found spread out for about two miles and in the bike path, Roberts says it was done on purpose. She also hopes, if someone pulled this tacky trick on purpose, they understand it's a dangerous prank and someone could get hurt next time."
— Denver, CO: New 15th Street lane shifts downtown Denver bike traffic to the left — "A dedicated bike lane will open along 15th Street in downtown Denver on Thursday, pushing all non-motorized two-wheeled traffic to the left side of the busy cross-town route. It's part of the 15th Street Bikeway pilot plan, designed to keep bicycles out of fast-moving vehicle traffic headed northwest across downtown Denver. The dedicated lane, buffered with a brick-colored strip, will run from Cleveland Place to Larimer Street. The new bikeway is modeled on those successfully deployed in cities including Minneapolis, Portland, Ore., San Francisco, Chicago and New York." Infographic here.
— Cedar Rapids, IA: Mayor's Labor Day bike ride draws largest crowd ever — "The annual Linn County Mayor's Bike Ride, sponsored by Linn County Trails Association, drew nearly 400 participants. Riders could pick either an eight mile ride or a two and a half mile 'fun ride' through the city. In addition to regular riders, organizers were also pleased to note about ten local politicians, including Mayor Ron Corbett, making the ride. They also see the ride as an opportunity to educate people who can make changes about the improvements and needs for cycling."
— Kansas City, MO: Swope Trails Phase 5 is Open — "Earthriders Trails Association [ERTA] in partnership with Heartland Outside is thrilled to announce that the Wudchuk Run Extension is officially Open for Business. 47 weeks ago the Swope Trails Crew began the planning process for Phase 5 and after 2,952 volunteer man hours, the dirt is primed and ready for the taking. Phase 5 is a 3.5 mile renovation and expansion of the Phase 2 portion of Swope trails."
— Kansas City, MO: Katy Trail to Kansas City trail connection: What's happening, what's new, what's the plan? — Here's an update on the effort to connect the Katy Trail to KC. The 46-mile section from Windsor to Pleasant Hill will be called the Rock Island Trail State Park, and is hoped to be completed in 2-3 years. The connection from Pleasant Hill to KC is still being negotiated.
— Lincoln, NE: Bicyclist struck by SUV, assists driver — A driver "suffered a medical episode and lost control of her vehicle", which "left the street and struck a mail box, electrical pole, bicyclist and retaining wall, which sent the SUV rolling. The bicyclist was alert and, along with the homeowner, tending to the woman in the SUV when rescue workers arrived. Neither the driver's nor the bicyclist's injuries were considered life-threatening."
— Oklahoma: The Future of Cycling Initiatives in Oklahoma — "There has been a change in leadership at the Oklahoma Bicycling Coalition. Our achievements have been amazing considering the small cadre of volunteers who do the work. Now it's time to move forward, building on the past efforts, to truly make Oklahoma a safer, better place to ride a bike."
— Oklahoma City, OK: String Of Bicycle Accidents Has OKC Cyclists On High Alert — "Lopez, the latest victim, thinks one man was intentionally trying to kill him. He was on his way to a skate park with a friend when a car swerved toward them twice and circled back again. 'I felt helpless,' said Lopez. 'Like I don't know why this guy would try to do this to me.'"
Event News
On tap for the coming weekend: The Bike MS: Wichita Ride and the Tour de Lizard Fat Tire Classic in Arkansas City. The Santa Fe Trail Bicycle Trek leaves Santa Fe, New Mexico on September 8th and follows an 1100-mile route along the old Santa Fe Trail through Kansas and ending at New Franklin, Missouri.
Elsewhere in the region, Colorodo hosts Pedal For Your Cause, the Buffalo Bicycle Classic, and the WackyW Bike Ride. In Missouri, the Bike MS: Gateway Getaway, Bike MS: Ozarks Ride, and Bike the Summit roll out, while the Bike MS: Nebraska Ride takes place in the Cornhusker state. Oklahoma features the DAM J.A.M. Bicycle Tour and the OBS Streak.
See also: Kansas Ride Calendar, Regional Ride Calendar
Bicycling Inspiration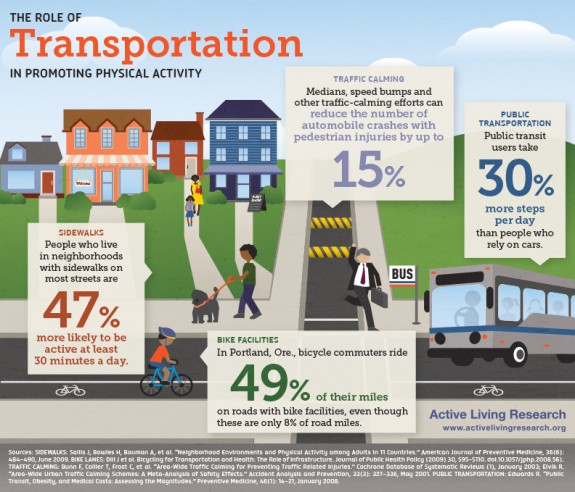 I wanted to pass along this outstanding infographic from ActiveLivingResearch.org (via the Missouri Bicycle & Pedestrian Federation) that shows "the close relationship between the transportation design choices we make in our communities and physical activity".
This can't be stressed enough: The way we get around our communities has a profound effect on both our individual health, and the economic health of the places we live and work.
People who integrate "Active Transportation" — walking or biking or even riding transit — into their daily lives are far healthier (and happier) than those who rely solely on automobiles. And, as a result of a healthier populace, and investing scarce funds on supporting all modes of transportation, communities have a far stronger and sustainable economic climate as well.
---
If you have a news item or upcoming event you'd like to share, please contact Kansas Cyclist with details.
Post tags: Baxter Springs, Digest, Leawood, Marysville, Olathe, Pittsburg, Topeka