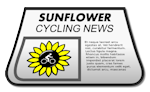 The Sunflower Cycling News is a periodic publication of Kansas Cyclist, featuring a compendium of hand-picked bicycling-related news items from Kansas and neighboring states.
The following is a recap of recent bicycling news from the region, as well as a look ahead to upcoming rides, races, and bicycling events coming up.
---
Bicycling News from Kansas
Jayhawk Trail Planned For KU Campus
Kansas University is creating a new campus master plan, and part of the plan is looking at ways to improve transportation options on campus: "Another possibility to increase mobility between and through campuses is dubbed 'Jayhawk Trail,' designed to give foot and bicycle travelers an easier throughway across the entire campus, from its northeast corner into West Campus, where it would branch in three directions." [learn more]
Amid federal shutdown, Kansas State Parks welcomes visitors
"The Kansas Department of Wildlife, Parks and Tourism (KDWPT) reminds visitors that all Kansas state parks are open for business. State park camping areas, cabins, trails, boat ramps, and other amenities are open, as are many of the businesses who serve lake visitors." However, "The U.S. Army Corps of Engineers and the Bureau of Reclamation own many of the reservoirs in Kansas and federal campgrounds, day-use areas and boat ramps are closed." [learn more]
The bottom line is there are still lots of places for bicycle camping in Kansas — state parks, state fishing lakes, wildlife areas, community lakes, community parks, and more. Don't let the silliness in Washington DC keep you from getting out and enjoying the outstanding fall touring opportunities in the Sunflower State!
Hutchinson Bicyclists Rile Motorist
An anonymous writer to HutchNews complains about bicyclists manners: "I live near Old 61 Highway, and we are getting a lot of bicyclists out here. Sometimes I notice that they ride three or four abreast. Can they do that? One time I honked at them, letting them know I was behind them, and they didn't move, so I honked while I was driving by, and they flipped me off." [read more]
It's great to see that there are "a lot of bicyclists" riding through the countryside around Hutchinson! But yes, two abreast is the maximum permitted by Kansas law. Of course, a two-up group can pass another two-up group, so that could get you to four-up for a brief period, and that's completely legal. May or may not have been the case here. If you're riding more than two abreast while traffic is trying to pass, knock it off!
Also, Mr. Motorist, if you honk multiple times at someone, which is a pretty rude and aggressive thing to do, don't be surprised if someone responds with hand signals. What did you expect? But bicyclists, flipping off someone who's already shown themselves to be short-tempered is probably not a great idea…
Handcrafting a Bicycle Business in Lenexa
"Vincent Rodriguez, who opened his own bike shop and café in June, is entering uncharted territory as the only major frame builder in Kansas City. Rodriguez opened up his bike shop/café/frame builder's studio, Velo+, in Old Town Lenexa. Rodriguez's shop is a reflection of the bike culture in Kansas City. It may be young and unassuming, but thanks to a few passionate individuals, it's finally gaining momentum." [learn more]
Christmas Bike Assembling in Wichita
"The Coasters have once again been asked to assemble new bikes for the "Believe in Christmas" extravaganza. This is a fun time and good cause. The date is Saturday, November 23rd." [learn more]
Talking With A Bicycle Police Officer in Manhattan
"Officer Scobee revealed that the most troubling areas in Manhattan for the bike officers are the Aggieville and Downtown areas. There are two pressing concerns, one dealing with the direction of cycling traffic, and the other with areas that are off-limits to cyclists. As a bike police officer, Ofc. Scobee patrols on his bike year-round and has taken several skills and safety courses. However, even with all this training and time spent riding on-the-job, Officer Scobee still tries to hit the mountain bike trails as often as possible to hone his bike handling skills." [read more]
Regional Bicycling News
— Little Rock, AR: Bike trail from Little Rock to Hot Springs in first gear — "Pulaski, Saline and Garland county officials, including county judges, mayors and chamber of commerce types, came together today to present the possibility of creating a 50-mile bike trail that would link Little Rock with Hot Springs on the old Rock Island line railroad track."
— Eagle County, CO: Saddleridge trail approaches completion — "There's just something more satisfying about riding a trail that you helped build. That's the feeling expressed by members of the Vail Valley Mountain Bike Association, who were hard at work on Thursday on the new Saddleridge trail between Avon and Edwards. It's all part of a larger effort to help Eagle County attain a 'Ride Center' designation from the International Mountain Biking Association, something that could open up a world of possibilities for the local mountain bike community."
— Coon Rapids, IA: Backcountry Trail Unique Model for Iowa Tourism — "A huge new Iowa nature preserve is poised to build a world-class mountain-bike and horse trail just 70 miles northwest of Des Moines, serving well over 25,000 users a year. These rural-tourism dollars will bring a significant economic boost to local economies."
— Kansas City, MO: Annual Bicycle Ride Favors Style Over Speed — "BikeWalkKC hosted the fourth annual Kansas City Tweed Ride held at The Colonnade in Kessler Park at St. John Ave & Gladstone Blvd, Kansas City, Mo. Even for those who haven't ridden a bike in months or maybe even years, they are able to get out and ride. With Cliff Drive closed on the weekend, it is a very family friendly event."
— St. Louis, MO: St. Louis to Get 100 Miles of Additional, Upgraded Bike Lanes — "Todd Antoine, Great Rivers Greenway Planning Director, says in some cases, there'll just be markings instructing drivers to share the roads, in others, there'll be striped bike lanes on the side, and still others will get what are called buffered bike lanes."
— Lincoln, NE: Lincoln to celebrate 1st place in National Bike Challenge — "Lincoln achieved first place for class one cities (cities with a population over 200,000) in the National Bike Challenge and will celebrate its national championship Monday, Oct. 14. The celebration will close out what has been a five-month national bicycle challenge focused on encouraging people to choose a bicycle for their everyday travels in place of a motor vehicle as well as riding for recreation."
— Tulsa, OK: Tulsa Police Department Dedicates Day To Fixing Local Kids' Bikes — "The city's police department held a free bike repair clinic for local kids last Saturday in an effort to spread goodwill and provide a helpful service to families in the community."
Event News
The wind-down to the bicycling event season is in progress, but plenty of rides are still on tap for the coming weekend, including Octoginta in Lawrence, Cross Out Cancer in Lenexa, and the Miller Maurader's Monster Mash in Wichita.
Elsewhere around the region, check out the Arky 100 in Arkansas; the Cotton Ramble, Route 66 Mother Road Bicycle Tour, and the Mercy Tour de Bass in Missouri; and Race The Rail in Oklahoma.
See also: Kansas Ride Calendar, Regional Ride Calendar
Bicycling Inspiration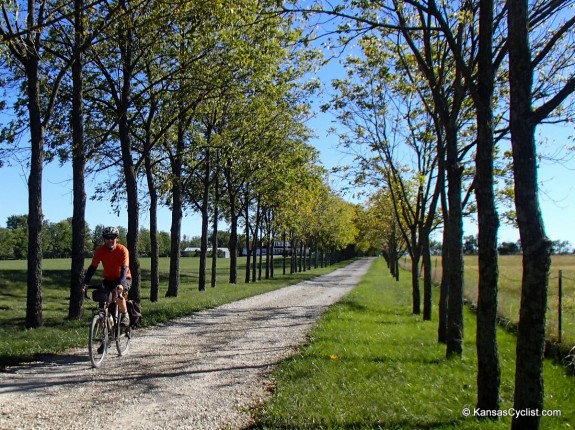 Here's what a "bike lane" looks like in the country… 😉
---
If you have a news item or upcoming event you'd like to share, please contact Kansas Cyclist with details.
Post tags: Bike Camping, Digest, Hutchinson, Lawrence, Lenexa, Wichita