Kansas Trail News for July 7, 2014, via Sunflower Rail-Trails Conservancy:
Sunflower Receives $5,000 Grant
Sunflower Rail-Trails Conservancy received a $5,000 grant in June to help complete an initial section of the Western Sky Trail which stretches 19 miles from Fredonia to Chanute, Kansas.
"We are very excited about this grant," offered Larry Ross, President of the Conservancy. "This grant will initiate the development of the trail starting from Fredonia. We are now counting on local groups and individuals to come forward to build this scenic trail."
Calgary-based Enbridge, Inc. is developing the Flanagan South pipeline which passes under the Western Sky Trail west of Chanute.
The trail will not only let people travel safely between the two communities, it will encourage people to exercise for health. It will also allow people to gather for festivals and informal socializing and, thus, build a sense of community.
"The trail will be similar to the existing 6.5 mile Southwind Rail Trail with its crushed limestone surface," said Clark Coan, Public Information Specialist for the Conservancy. However, we will be able to do it much cheaper using local volunteer labor and donations. When complete, we hope to turn it over to a regional entity for maintenance and management."
Meadowlark Trail Section to Open
A new section of the Meadowlark Trail which stretches 13 miles between Lindsborg and McPherson is scheduled to open this summer. The three-mile segment between South Lindsborg and Shawnee Road links with the Valkommen Trail in Lindsborg. This will complete Phase II of the rail-trail project.
Phase I between the McPherson trailhead to Pawnee Rd. (4 miles) is also complete leaving only Phase III to be finished. The rail-trail, which has a crushed limestone surface, is being built by volunteers with Central Kansas Conservancy. Funding sources for the screenings include the Sunflower Foundation and the Mingenback Foundation.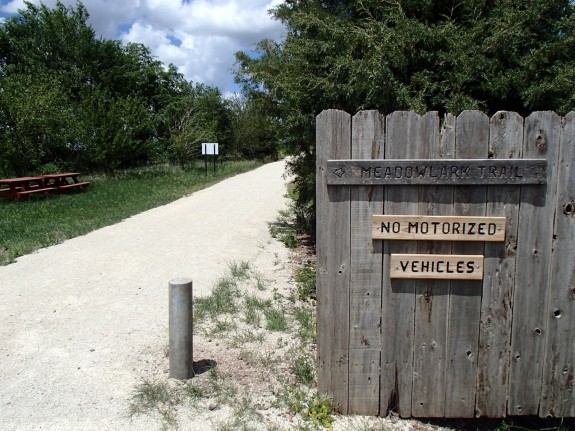 Scenic Overlook for Flint Hills Proposed
"The Kansas Turnpike Authority is considering a scenic overlook along I-35 to allow travelers to stop and appreciate the Flint Hills. Construction is tentatively scheduled for spring 2015." –USA Today, 7-01-14
Fred Goss, director of the Flint Hills Discovery Center in Manhattan, Kan., said people are often amazed by the wide-open spaces of the tallgrass prairie. "It's really a point of pride for the state of Kansas," he said. (Excerpted from the KC Star, 6-29-14). The overlook will be south of Emporia at the cattle pens. This is also the area where there is a herd of antelope.
Once the Flint Hills Nature Trail is complete from Osawatomie to Council Grove, Kanza Rail-Trails Conservancy will ask the KTA to erect informational signs on the turnpike at the US 56 exit directing travelers to the state's longest trail which allows trail users to get up close to the tallgrass prairie.
Art in Action

"Thanks to a recent grant awarded to Anderson County Economic Development through the KDOC Creative Arts Industries Commission, these "functional art sculptures" may be appearing sometime soon along the Prairie Spirit Trail in Garnett." Source: Prairie Spirit Express, July, 2014.
---

Kansas Trail News
is published by
Clark H. Coan
, Public Information Specialist for
Sunflower Rail-Trails Conservancy, Inc.
and
Kanza Rail-Trails Conservancy
, P.O. Box 44-2043, Lawrence, KS 66044, 785-842-3458. Reprinted with permission. If you have any trail news you'd like to share, please
contact us
.
Post tags: Kansas Trail News