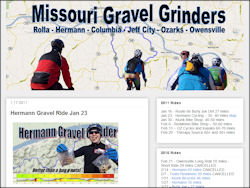 The Hermann Gravel Grinder Series is a collection of organized gravel grinder rides in and around the Hermann, Missouri area. These rides are intend to be base mile rides.
The gravel roads in the Hermann area are well groomed, with zero traffic and lots of big hills with stunning views. Unless the weather absolutely prevents a bike from moving forward due to snow or ice, the rides are on. Mountain bikes and cross bikes work great. The rides are self supported; bring what you need to last the entire ride, limited to no services stations. No one left behind; will re-group at turns and intersections.
Visit the Hermann Gravel Grinder Series web site for the full schedule of rides.