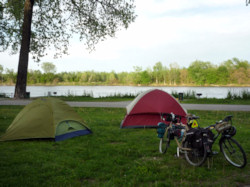 For a state with as little public land as Kansas has (less than 1%, the least in the nation), there are a surprising quantity of places for bicycle travelers to camp overnight, for little or no cost.
Most of these are either at public lakes – city lakes, county lakes, state fishing lakes, reservoirs – or at state parks or public campgrounds administered by the U.S. Army Corps of Engineers (which manages most of the large reservoirs in the state). In addition, there are quite a few privately-owned commercial campgrounds, though most of these are focused on RV or car camping. And many small towns even provide free camping in city parks for bicyclists!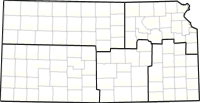 Bicycle Camping By Region
Bicycle Camping By Type Of Facilities
Bicycle Camping By Cost
Bicycle Camping Informational Articles
A Few Random Campsites
Topeka Hilltop Campground

Topeka Hilltop Campground offers camping opportunities near Grantville, Kansas. $20/night and up.

Webster State Park

Webster State Park provides tent camping opportunities near Stockton, Kansas. Cost is $8/night.

Osage State Fishing Lake

Free primitive camping near Carbondale, Kansas. Toilets are provided.

All Seasons RV Park

Though primarily an RV campground, All Seasons RV Park offers a few tent campsites as well, near Goddard, Kansas. $16/day and up.

Water Sports Campground and RV Park

Water Sports Campground & RV Park offers both RV and tent campsites, near Dodge City, Kansas. $19/night and up.

Bicycle Camping in Neighboring States