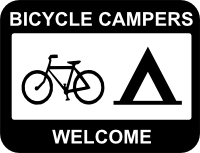 The following is a directory of bicycle camping resources in the state of Arkansas, including both free and pay sites, concentrating on tent (primitive) campsites most appropriate for bicycle touring.
Note that most of these are not exclusively for bicycle camping; most are described as "tent camping", "primitive camping", or "backpacker camping". But all of these will accept campers traveling by bicycle, and offer a minimum of a place to pitch a tent. Other common amenities include restrooms, water, showers, picnic tables, etc.
Arkansas Camping Destinations
ArkansasStateParks.com – Learn about camping opportunities at Arkansas State Parks. Campsites "are located in scenic settings showcasing the natural beauty and geological diversity of Arkansas – The Natural State. Campsites range from primitive, hike-in tent sites to those with modern conveniences including water, electric and sewer hookups. Campgrounds include modern bathhouses with hot showers and flush toilets."
Arkansas National Forests – There are two national forests managed by the U.S. Forest Service within the state of Arkansas: the Ouachita National Forest and the Ozark-St. Francis National Forests). Both offer established campgrounds and dispersed camping.
Arkansas National Parks – There are seven facilities managed by the U.S. National Park Service within the state of Arkansas, two of which allow camping. Buffalo National River offers both established campgrounds, as well as backcountry camping (dispersed camping). Hot Springs National Park) offers only campground camping.
You'll need to research each destination to verify what services and amenities it may offer, and how much it may cost – many are free, but some require a minimal payment.
Arkansas Camping Resources
Bicycle Camping Elsewhere in the Region
See Also: Bicycle Camping Resources By State – A nationwide directory of places for bicyclists to camp, in every state.
Other Bicycling Resources in Arkansas