On June 19th, in Ottawa, Kansas Governor Jeff Colyer ceremonially signed legislation designating the Flint Hills Nature Trail as a Kansas State Park.
Story from the Ottawa Herald: Flint Hills trail becomes state park
"With the popularity of biking and hiking and the location of the Flint Hills Trail, it goes through a unique area of Kansas. It used to be a unique area in the whole continental United States. We have something very unique in Kansas and people want to see it. That is the significance of the Flint Hills Trail."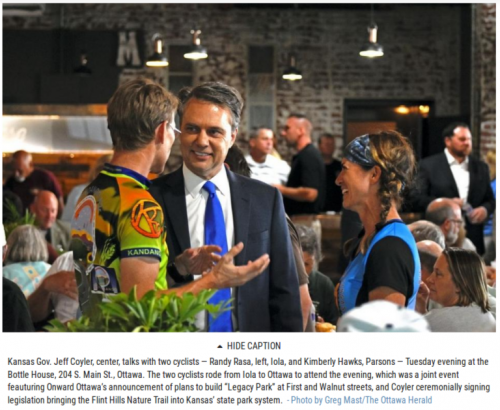 I was on hand for the event, which also previewed a new Trail-Oriented Development at the intersection of the Prairie Spirit Trail and Flint Hills Nature Trail. "Legacy Square" will feature a large covered outdoor event space, as well as amenities for trail users.
Note: Some sources report the official name of the new state park as the "Flint Hills Trail", while others continue to use the "Flint Hills Nature Trail" name … so it remains to be seen what the new park will be called.
By the way, I attended the event because I happened to be on a short bike tour. A small group of riders started in Iola, rode the Prairie Spirit Trail to Ottawa, the Flint Hills Nature Trail to Council Grove, then paved and gravel roads through Emporia, and back to Iola: about 250 miles over four days. You can read my account of the trip here: Spirit Hills Tour 2018
Post tags: Flint Hills Nature Trail