Each month the Rails-to-Trails Conservancy highlights a rails-trails project as its Trail of the Month, and for March, it Kansas' own Flint Hills Nature Trail:
Hitching Osawatomie on the east to Herington on the west, this rail-trail is tailor-made for lovers of big skies and unbroken countryside. "You go out there in the Flint Hills, especially when the sun is ready to go down, and the breezes blow the prairie grasses like waves," says John Purvis, president of the Kanza Rail-Trails Conservancy (KRTC), which owns the corridor and the connecting Landon Nature Trail. "It's like you're in this giant sea of grass."

So far, 43 percent of the trail—or 50 miles—have been completed, and Purvis hopes to have the trail fully smoothed-out with crushed stone in the next three to five years. At that point, the Flint Hills Nature Trail will be one of the 10 longest developed rail-trails in the country.

In the meantime, the full corridor is open to visitors with the caveat that unimproved sections are surfaced in ballast and best suited for horses, hiking and mountain bikes. Yet even the most rugged areas feel like a fitting homage to the once-daunting westward journey across the Kansas tallgrass prairie.
You can read more from the Rails-to-Trails Conservancy: Trail of the Month: March 2010 – Kansas' Flint Hills Nature Trail, or learn more about the trail at flinthillstrail.org.
The article includes a in interesting history of the trail, as well as some fine photographs. Here's one of mine, showing a section of the trail near Osawatomie in late autumn: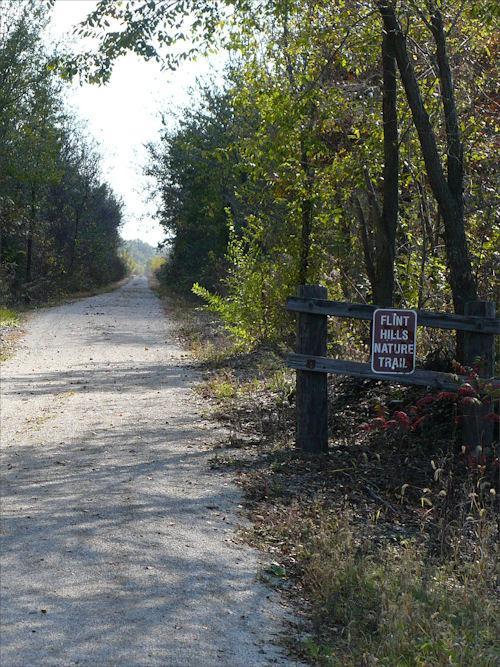 If you've been reading Kansas Cyclist for long, you'll know that I'm really enthusiastic about the trail, and have discussed it a number of times on the news blog, as well as on the Kansas Cyclist Podcast (most recently in episode 10). It's a great resource for the state of Kansas, and I'm happy to see it get a little bit of national attention. It deserves it!
Incidentally, the Flint Hills Nature Trail is not the first Kansas trail to be honored; the Prairie Spirit Trail was Trail of the Month in January 2004.