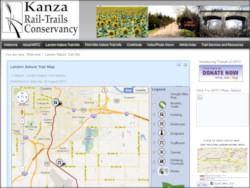 The Landon Nature Trail begins in Topeka, in front of the Brown v. Board of Education National Historic Site, connects with the Shunga Trail, then continues south through Berryton, along Linn Creek, to the Clinton Wildlife Area and the Wakarusa River. From there, it crosses northern Osage County, following Camp Creek, past the scenic Swissvale Waterfall, and then into the historic City of Overbrook. From there, the trail passes Pomona Lake, crosses 110 Mile Creek and joins the Flint Hills Nature Trail at Lomax Junction, near the town of Pomona.
The Landon Nature Trail is a remarkably scenic trail. It passes by two waterfalls, two wetlands, tallgrass prairies, and oak-hickory forests. It links up Topeka parks with the Clinton Wildlife Area, the Santa Fe National Historic Trail and Michigan Valley Park at Pomona Lake. The variety of scenery and historic sites is unmatched in eastern Kansas.
The total length of the Landon will eventually be 38 miles, though for now only a 4.5-mile section is open from the Topeka city limits south to Berryton. Another 4.5-mile section in Topeka is under construction.
The Landon Nature Trail is being developed and maintained by private citizens under the direction of the Kanza Rail-Trails Conservancy.