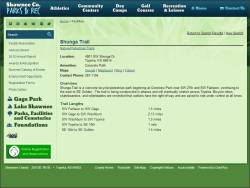 The Shunga Trail is a popular paved multi-use pathway located in Topeka, Kansas. The trail begins at Crestview Park near 27th and Fairlawn, and continuing east to 10th and Adams, running through city parks, grassy meadows, and forested woodlands along Shunga Creek. To bypass traffic, the trail passes under crossing streets.
The Shunga Trail intersects the Landon Nature Trail just south of the Brown v. Board of Education National Historic Site. The trail is about 13 miles in length, with additional mileage under development.
In addition to the paved trail, there are also several miles of easy-to-moderate dirt and grass mountain bike trails, accessed via Wells Park at 25th and Gage Blvd. A BMX dirt course is also available near the trail.