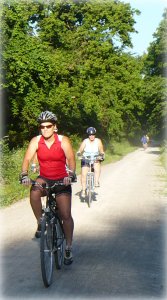 There is a huge variety of places to ride your bike within the state of Kansas. In addition to a large and well-maintained system of streets, highways, and secondary roads, Kansas offers a wealth of off-road riding opportunities as well. Many Kansas communities have networks of both paved and unpaved paths that are used by cyclists, walkers, and joggers. Kansas also features a growing list of rail-to-trail projects that use railbanked train right-of-ways for inter-community transportation and recreation. And finally, although Kansas has no true mountains, it boasts an outstanding variety of mountain bike trails in parks throughout the state.
A Few Random Kansas Trails
Kansas Rocks Recreation Park

A recreational park for off-road vehicles, mountain biking, and hiking, located near Fort Scott, Kansas. Over 60 miles of beginner, intermediate, and expert-level trails.

Shawnee Mission Park

Five miles of some of the best technical singletrack in the Kansas City area, along with paved multi-use trails and a challenging road loop.

Antioch Park

A 44-acre park located in Mission, Kansas with about two miles of multi-use trails and sidewalks, among other amenities.

Hillsdale Lake

Over 50 miles of mountain bike trails located just south of Kansas City in the eastern part of the state.

Sunflower Santa Fe Trail

A planned 33-mile rail-trail conversion connecting the towns of Marion and McPherson, in central Kansas.
See Also:
Bicycle Trails in Neighboring States