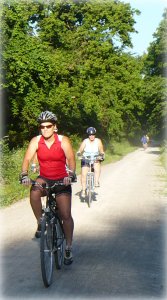 There is a huge variety of places to ride your bike within the state of Kansas. In addition to a large and well-maintained system of streets, highways, and secondary roads, Kansas offers a wealth of off-road riding opportunities as well. Many Kansas communities have networks of both paved and unpaved paths that are used by cyclists, walkers, and joggers. Kansas also features a growing list of rail-to-trail projects that use railbanked train right-of-ways for inter-community transportation and recreation. And finally, although Kansas has no true mountains, it boasts an outstanding variety of mountain bike trails in parks throughout the state.
A Few Random Kansas Trails
Marquette Pioneer Trail

A 2.8-mile rail-trail in Marquette, Kansas.

Chieftain Trail

The Chieftain Trail is a multi-use pathway located in Tonganoxie, Kansas. It currently consists of approximately one mile of paved pathway.

Sunflower Santa Fe Trail

A planned 33-mile rail-trail conversion connecting the towns of Marion and McPherson, in central Kansas.

Sand Hills State Park

14 miles of hiking, biking, and horse trails that weave among a panorama of sand dunes, prairie, woodlands and wetlands at this unique natural setting near Hutchinson in central Kansas.

Great Osage Trail

The Great Osage Trail is a proposed rail-trail between Wellington and Oxford, Kansas.
See Also:
Bicycle Trails in Neighboring States