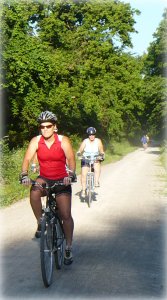 There is a huge variety of places to ride your bike within the state of Kansas. In addition to a large and well-maintained system of streets, highways, and secondary roads, Kansas offers a wealth of off-road riding opportunities as well. Many Kansas communities have networks of both paved and unpaved paths that are used by cyclists, walkers, and joggers. Kansas also features a growing list of rail-to-trail projects that use railbanked train right-of-ways for inter-community transportation and recreation. And finally, although Kansas has no true mountains, it boasts an outstanding variety of mountain bike trails in parks throughout the state.
A Few Random Kansas Trails
Prairie Sunrise Trail

The Prairie Sunrise Trail is a rail-trail being built between Almena and the Nebraska state line, about 12 miles.

Air Capital Memorial Park Singletrack

A city park in Wichita, Kansas that has been developed for singletrack bicycling and hiking/running use, with about 2 miles of basic, intermediate and advanced trails.

Independence Creek Trail

A 2.5-mile hiking and biking trail that connects the Lewis and Clark Historic Site at Independence Creek with River Road, near Atchison, Kansas.

Melvern Lake

Located in east central Kansas, this reservoir offers several mountain bike trails, covering a total of over 30 miles of trail wandering through the prairie and into rocky ravines and woodlands.

Haysville Hike and Bike Path

Haysville, Kansas offers approximately 4.6 miles of paved multi-use pathways, running along grassy areas, meandering along Cowskin Creek, and connecting a number of Haysville parks and businesses.
See Also:
Bicycle Trails in Neighboring States