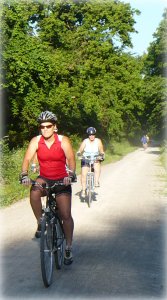 There is a huge variety of places to ride your bike within the state of Kansas. In addition to a large and well-maintained system of streets, highways, and secondary roads, Kansas offers a wealth of off-road riding opportunities as well. Many Kansas communities have networks of both paved and unpaved paths that are used by cyclists, walkers, and joggers. Kansas also features a growing list of rail-to-trail projects that use railbanked train right-of-ways for inter-community transportation and recreation. And finally, although Kansas has no true mountains, it boasts an outstanding variety of mountain bike trails in parks throughout the state.
A Few Random Kansas Trails
23rd Street Bike Park

A mountain biking park in Pittsburg, Kansas, set on the site of an abandoned coal mine, so the terrain is rough and rolling, with lots of jumps, tight turns, and small hills.

MacLennan Park

This Topeka park is located adjacent to the Kansas Governor's mansion, and offers over 6 miles of bike paths and mountain bike trails through the woods and meadows overlooking the Kansas River.

Shunga Trail

A popular 13-mile paved multi-use pathway passing along Shunga Creek in Topeka, Kansas, with adjoining BMX track and several miles of mountain bike trails.

Blue River Rail Trail

The Blue River Rail Trail in Marysville, Kansas connects to the Chief Standing Bear Trail in Nebraska, on what will eventually be a 68-mile rail-to-trail project from Marysville to Lincoln.

Great Osage Trail

The Great Osage Trail is a proposed rail-trail between Wellington and Oxford, Kansas.
See Also:
Bicycle Trails in Neighboring States