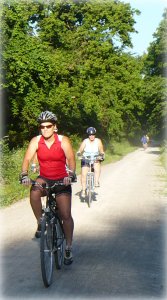 There is a huge variety of places to ride your bike within the state of Kansas. In addition to a large and well-maintained system of streets, highways, and secondary roads, Kansas offers a wealth of off-road riding opportunities as well. Many Kansas communities have networks of both paved and unpaved paths that are used by cyclists, walkers, and joggers. Kansas also features a growing list of rail-to-trail projects that use railbanked train right-of-ways for inter-community transportation and recreation. And finally, although Kansas has no true mountains, it boasts an outstanding variety of mountain bike trails in parks throughout the state.
A Few Random Kansas Trails
Quivira Trail

The Quivira Trail is a proposed rail-trail between Lyons, Lorraine, and Beaver, Kansas.

Turkey Creek Streamway

A paved urban hiking and biking trail located in northeast Johnson County, Kansas, about 4 miles in length.

Augusta Pedestrian & Bicycle Path

A 2-mile paved multi-use pathway located in Augusta, Kansas.

Banner Creek Trail

Over 13 miles of beginner and intermediate-level mountain bike trails around the shores of Banner Creek Reservoir near Holton, Kansas.

Blue River Rail Trail

The Blue River Rail Trail in Marysville, Kansas connects to the Chief Standing Bear Trail in Nebraska, on what will eventually be a 68-mile rail-to-trail project from Marysville to Lincoln.
See Also:
Bicycle Trails in Neighboring States