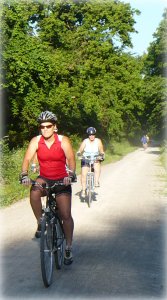 There is a huge variety of places to ride your bike within the state of Kansas. In addition to a large and well-maintained system of streets, highways, and secondary roads, Kansas offers a wealth of off-road riding opportunities as well. Many Kansas communities have networks of both paved and unpaved paths that are used by cyclists, walkers, and joggers. Kansas also features a growing list of rail-to-trail projects that use railbanked train right-of-ways for inter-community transportation and recreation. And finally, although Kansas has no true mountains, it boasts an outstanding variety of mountain bike trails in parks throughout the state.
A Few Random Kansas Trails
Spirit Wind Trail

The Spirit Wind Trail is a proposed rail-trail between Jetmore and Hanston, Kansas.

Hickory Creek Trail

The Hickory Creek Trail at John Redmond Reservoir offers about 20 miles of multi-use trail for hikers, horseback riders, and mountain bikers.

Marquette Pioneer Trail

A 2.8-mile rail-trail in Marquette, Kansas.

Haskell Rail Trail

A one-mile gravel rail-trail in Lawrence, Kansas.

Clinton Lake Trail

This 25-mile mountain bike trail on the north shore of Clinton Lake in Lawrence is one of the longest and most popular mountain bike trails in Kansas.
See Also:
Bicycle Trails in Neighboring States