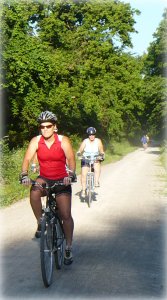 There is a huge variety of places to ride your bike within the state of Kansas. In addition to a large and well-maintained system of streets, highways, and secondary roads, Kansas offers a wealth of off-road riding opportunities as well. Many Kansas communities have networks of both paved and unpaved paths that are used by cyclists, walkers, and joggers. Kansas also features a growing list of rail-to-trail projects that use railbanked train right-of-ways for inter-community transportation and recreation. And finally, although Kansas has no true mountains, it boasts an outstanding variety of mountain bike trails in parks throughout the state.
A Few Random Kansas Trails
Mill Creek Streamway

A beautiful linear park in Johnson County, Kansas with over 17 miles of trails extending from Olathe north through Lenexa and Shawnee to Nelson Island on the Kansas River.

Lake Barton Trails

A 2-mile trail that circles Barton County Lake near Great Bend, KS. Mostly flat singletrack through woods, with a few steep and technical sections.

Elk City State Park Trails

This park features the 4-mile Eagle Rock Mountain Bike Trail and the paved 3.3-mile South Squaw Bike Trail, as well as a nationally-recognized system of hiking and nature trails.

Big Creek Trail

Big Creek Trail is located in Hays, Kansas, and is an enjoyable 8.75-mile trail that follows alongside Big Creek. located near historic Fort Hays.

Wilderness Park

Over 4 miles of twisty singletrack and gravel doubletrack trails that carry you through a diverse natural environment that includes wetlands, forested areas, grasslands, a creek, and several "coal pit" ponds.
See Also:
Bicycle Trails in Neighboring States