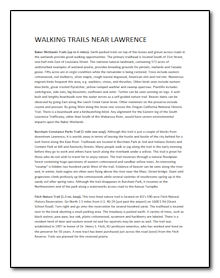 View
Walking Trails Near Lawrence was first published in 1985 and sold over 1,000 copies in booklet form. It's now available on the web, and you can read it online or download it to your smartphone and carry it with your as you explore the trails.
The booklet contains detailed information about the following trails in and around Lawrence, Kansas:
Baker Wetlands Trails
Burcham-Constance Parks Trail
Fitch Nature Trail
Burroughs Creek Trail
Kansas River Levee Trail
Kaw River Trail
Landon Nature Trail
Latham Trail
Naismith Valley Park Trail
Heatherwood Trail
Northshore Trail
Perry Lake Trail
Mary's Lake or Red Cedar Trail
Riverfront Park Trails
Sanders Mound Trail
Barber School Trail
SLT Hike and Bike Path
Flint Hills Nature Trail
The booklet was written by Clark H. Coan, Public Information Specialist for Sunflower Recreational Trails. It is available here with his permission. If you have any questions about the trails, you can contact Clark at 785-842-3458 or clarkcoan@yahoo.com. Clark also publishes the Kansas Trail News, an email newsletter of trail news from around the Sunflower State.
---
See Also: