Kansas Cyclist, as the premier web site for bicycling in Kansas (as well as the neighboring states of Arkansas, Colorado, Iowa, Missouri, Nebraska, and Okilahoma), offers an outstanding advertising opportunity for businesses and services.
If you own, manage, work for, or promote a business that could benefit from getting its message out to thousands of cyclists in Kansas and the surrounding region, please consider purchasing advertising on Kansas Cyclist. We have affordable and flexible advertising options that start at very minimal amounts.
Most of our ads are served through Google, which allows advertisers to purchase ads at various locations on the site, in several sizes and formats.
The following link will take you to Google's "AdSense Direct" site, where you can browse the available inventory and prices:
All ads purchased through AdSense Direct require manual approval for content, quality and appropriateness.
If you have something else in mind, please contact us with a specific proposal.
Why Advertise at Kansas Cyclist?
Put Your Message In Front of Consumers: Kansas Cyclist is, hands down, the highest-traffic web site dedicated to bicycling in the state of Kansas. If you want to reach the people who ride bikes in Kansas, and throughout the midwest, this is the one site that will allow you to do so.
And unlike a magazine or newspaper ad, your message can reach these people every day, all year long, for less than the cost of one ad in traditional media.
Goodwill: Your support of Kansas Cyclist will help keep this valuable web site online and thriving, and readers will appreciate your financial support, which will bring a high level of goodwill to your brand.
Associating your business with the good work done through this web site can only help consumers to think of your company in a similar light.
Attractive Demographic: The people who self-identify as "cyclists" are often more highly educated than average, with a higher income, and a willingness to invest in their own health, fitness, and well-being. Cyclists purchase numerous goods and services to support their lifestyle, and weekend biking getaways are common, which of course include travel, lodging, and restaurants.
If you're interested in advertising on Kansas Cyclists, you can contact us if you have a specific proposal you'd like to discuss.
Traffic and Demographics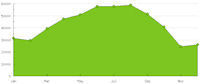 During the most recent calendar year, Kansas Cyclist displayed about 850,000 pages to about 450,000 unique visitors. Naturally, the web traffic is somewhat seasonal, peaking during the summer months (see traffic graph to the right).
No specific demographic data is available at this time, but the target audience for Kansas Cyclist is active, engaged adults interested in health, fitness, and outdoor recreation. Kansas Cyclist aims to serve all bicyclists, including casual riders, club riders, bicycle commuters, bicycle tourists, and bicycle racers.
Other Ways To Support Kansas Cyclist
If you find Kansas Cyclist to be a valuable resource for the cycling community, and would like to support the site in some way other than advertising, please consider making a donation, using the "donate" button on the right, which will take you to PayPal, which will process your donation. You can pay using your PayPal balance, or a credit or debit card. It's fast, easy, and 100% secure.
Feel free to donate any amount you deem appropriate.
Learn more: Support Kansas Cyclist
Additional Information About Kansas Cyclist