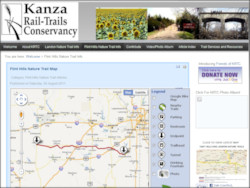 The Flint Hills Trail is a Kansas State Park connecting Osawatomie in the east and Herington in the west, passing through the towns of Rantoul, Ottawa, Pomona, Vassar, Osage City, Bazaar, Allen, Bushong, Council Grove, Wilsey, and Delavan. It is the longest rail-trail in Kansas, at 117 miles when completed.
Currently, the entire 93-mile length of the trail between Osawatomie and Council Grove is open; the remaining segment, between Council Grove and Herington, is unimproved.
The Flint Hills Trail was previously known as the "Flint Hills Nature Trail", and was developed and maintained by private citizens under the direction of the Kanza Rail-Trails Conservancy.