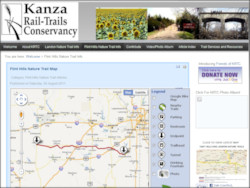 The Flint Hills Nature Trail is 117-mile rail-trail conversion connecting Osawatomie in the east and Herington in the west, passing through the towns of Rantoul, Ottawa, Pomona, Vassar, Osage City, Bazaar, Allen, Bushong, Council Grove, Wilsey, and Delavan. When completed, it will be the longest rail-trail in Kansas.
Currently about 65 miles of the trail are completed, including the section between Osawatomie and Ottawa, and segments near Bushong, Allen, Admire, Miller, Delavan, Wilsey, Vassar, Council Grove, and Osage City.
The remainder of the trail is open to the public, but the unimproved sections are not yet in a finished state, surfaced in ballast and best suited for horses, hiking and mountain bikes.
The Flint Hills Nature Trail is being developed and maintained by private citizens under the direction of the Kanza Rail-Trails Conservancy.