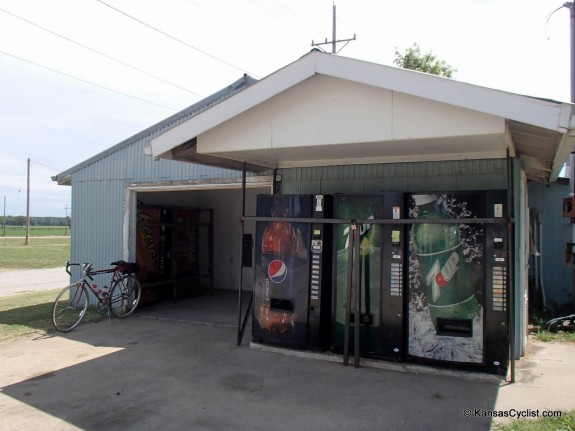 Self-serve refreshments on the Flint Hills Nature Trail in Rantoul, Kansas. Doubt if they're getting rich, but it apparently earns enough to purchase, stock, operate, and maintain five vending machines and a change machine. There are four soft drink machines ($0.75 for cans, $1.50 for bottles) and one candy machine.
It's a nice amenity for a portion of the trail with no other services!
The machines probably make a good portion of their income from locals, but the trail traffic surely doesn't hurt, either. I know that I usually stop and drop a dollar or two when I'm passing through, whether by road or by trail.
But be prepared to haul out your own trash, as no trash bin is provided…
Any other Kansas trails offer something similar?
By the way, the trail is in fine shape between Osawatomie and Ottawa: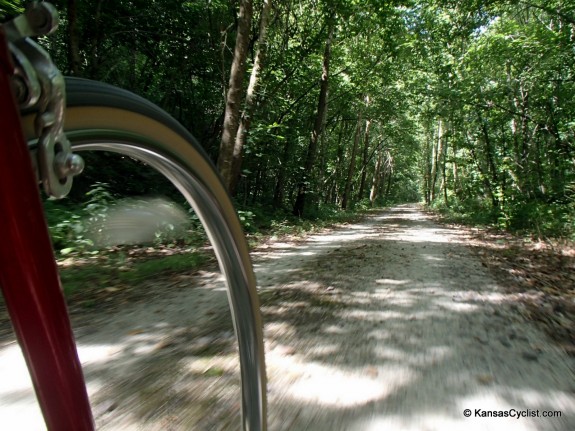 There's nice shade in most places along this part of the route!
And in case you missed the news, the Flint Hills Nature Trail is going to see some major improvements in the next year or so, with the Kansas Department of Wildlife, Parks and Tourism, along with the Kansas National Guard, planning to complete the trail, and add a number of trailheads along the 117-mile route, thanks to a $2.4 million grant.
The trail is already popular where it's been completed, but it's going to be an amazing resource once fully developed, especially once it gets connected to the Katy Trail in Kansas City. Can't wait!
Post tags: Rantoul