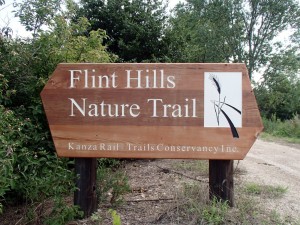 The Kansas Department of Wildlife, Parks, and Tourism and the Kanza Rails-Trails Conservancy are hosting a design workshop on Monday, March 10, 2014, from 4:30 pm to 6:00 pm, at Memorial Hall (411 11th St.) in Osawatomie, Kansas.
The design workshop will provide an opportunity to provide input on development of the Flint Hills Nature Trail.
Last year, the KRTC was awarded about $2.4 million in grants from the federal Transportation Enhancements Program and the National Recreational Trails Program, to go towards the Flint Hills Nature Trail project.
Planning and engineering is currently underway for the trail corridor, and as part of the process, the public is encouraged to view concepts and comment on the project:
The Flint Hills Nature Trail is a rails-to-trails project that extends 117 miles from Osawatomie to Herington. Development of the Trail will encourage outdoor recreation and provide safer routes for pedestrians, bicyclists, and equestrians. The trail will connect six counties and numerous communities along the way.

A significant element of the project is learning and understanding public opinions about development of the trail using a series of community workshops. These are open sessions – no formal presentation is planned, and interested residents are invited to attend at their convenience. The workshop format will allow attendees to learn about trail planning and design and to talk one-on-one with design team members.
This workshop follows earlier meetings in Ottawa and Council Grove. There will be a fourth design workshop, scheduled for April 21st in Osage City.
Post tags: Osawatomie, Rail Trail