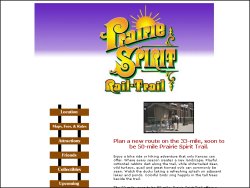 The Prairie Spirit Trail is a Kansas State Park built on the former right-of-way of the Leavenworth, Lawrence & Galveston Railroad, which was the first north-south rail line in Kansas. The rail line was constructed in the 1860's and ran until the 1970's. The Prairie Spirit Trail was the first major rail-trail conversion in Kansas. The first section of the trail was opened in 1996.
The trail corridor runs from Ottawa in the north to Iola in the south, a distance of about 52 miles. Since the trail is built upon a railway bed, the grades are very moderate. The trail surface is hard-packed limestone screenings in rural areas, and asphalt paving within the towns of Garnett, Iola and Ottawa. The trail passes over a number of bridges, including ones over the Marais Des Cygnes River and Pottawatomie Creek. Trailheads provide benches, restrooms, and picnic areas in each community along the trail. Additional rest areas with bench seating are strategically placed along the trail.
Scenery along the trail is a mixture of rural farmlands and hardwood forest with stands of hickory and oak. Remnants of original tallgrass prairie habitat can be found in places. Attractions along the trail include the Old Depot Museum and Kanza Park in Ottawa, and the Santa Fe Depot, Anderson County Museum, and the historic Anderson County Courthouse in Garnett. Restaurants are available in Ottawa, Richmond, Garnett, and Iola. Lodging is available in Ottawa, Garnett, and Iola.
Although camping is not permitted on the Prairie Spirit Trail itself, there are a number of camping options near various points along the corridor. See: Camping Along The Prairie Spirit Trail.
The Prairie Spirit Trail was the Rails-to-Trails Conservancy's Trail of the Month in January 2004.
The Prairie Spirit Trail connects to the Flint Hills Trail in Ottawa, and to the Mo-Pac Trail, Southwind Rail Trail, and Lehigh Portland Trails in Iola.