The Prairie Spirit Trail is celebrating it's 14th anniversary with a Birthday Bash on March 10th in Garnett, Kansas:
Tickets went on sale February 1st for the 14th Annual Anniversary/Birthday Bash Celebration of the Prairie Spirit Trail. The gala will take place on Wednesday, March 10th at the Community Building located in Garnett's North Lake Park.

Social time begins at 6:00 p.m. The buffet dinner featuring smoked meat, delicious salads, side dishes and birthday cake will be served beginning at 6:30 p.m. A silent auction will be ongoing throughout the evening and includes some really nice items. Guest speakers, including Trail Manager, Trent McCown, will be on hand to give updates on trail happenings.

Don't be left out! Tickets to the "birthday bash" are only $7 per person and are available for purchase at Garnett City Hall, Archer Insurance (Garnett), or can be purchased at the event.

CELEBRATE SPRING! Don't miss your chance to enjoy an evening of fun and show your support for the Prairie Spirit Trail. Buy your tickets and mark your calendar. We look forward to seeing you on Wednesday, March 10th!
Learn more from prairiespirittrail.org or on the Facebook Event Page. Here's the event flyer: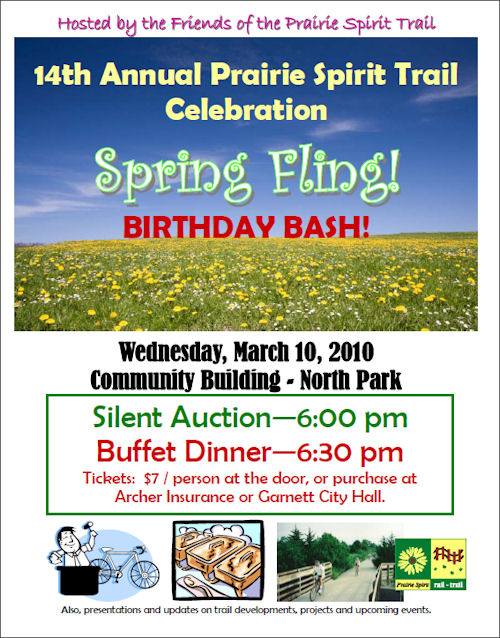 The first stretch of the Prairie Spirit Trail officially opened on March 30, 1996, with 17 miles of trail, and has since been lengthened, first to 33 miles, then to it's current 51-mile length.
Interestingly, although the Kansas Department of Wildlife and Parks lists the Prairie Spirit Trail as a state park, it actually isn't. It's managed by the KDWP, but it's never been officially designated a state park. That could be changing. According to the Wichita Eagle:
A bill that would declare the Prairie Spirit Rail Trail a state park has passed the Kansas House and is headed to the Senate committee on natural resources.

Chris Tymeson, Kansas Department of Wildlife and Parks lawyer, said including the hiking/biking trail in eastern Kansas within the state park system would allow it to use park fees. The change would also increase the trail's chances of gaining federal grants.
The birthday bash isn't the only event happening on the trail this year. According to the trail's web site: "A charity bike ride is being planned for Saturday, June 12th. The ride is being coordinated through the Ottawa Recreation Commission and will benefit the Franklin County Cancer Society and the Prairie Spirit Trail. The ride will begin at the Kanza Park in Ottawa and participants will have the options of trekking 5, 10, 20 or 50 miles. More information to be released soon as final details of the ride are made."
The ride will be posted on the Kansas Cyclist event calendar as soon as details are announced.
Post tags: Prairie Spirit Trail