The Prairie Spirit Trail will be enjoying its 18th birthday with a Trail Celebration on March 26th in Garnett, Kansas. The event is hosted by the Friends of the Prairie Spirit Trail, and helps to raise funds for trail enhancement projects: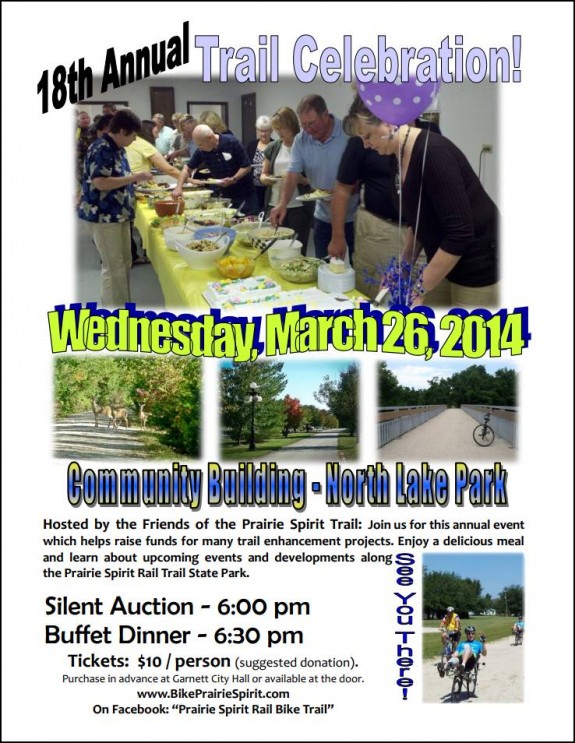 The event will begin with a silent auction at 6pm, followed by a buffet meal at 6:30pm. Guest speakers will give updates on trail projects and upcoming Friends activities. Tickets are on sale at Garnett City Hall for $10. Tickets can also be purchased at the door.
The following weekend, the Kansas Department of Wildlife, Parks and Tourism will be hosting a statewide open house event at all state parks in Kansas on Saturday, March 29, 2014.
The Prairie Spirit Trail State Park will be joining in on the fun, with free access to the entire 52-mile trail. (Prices are normally $3.50 per day, or $12.15 for an annual pass.)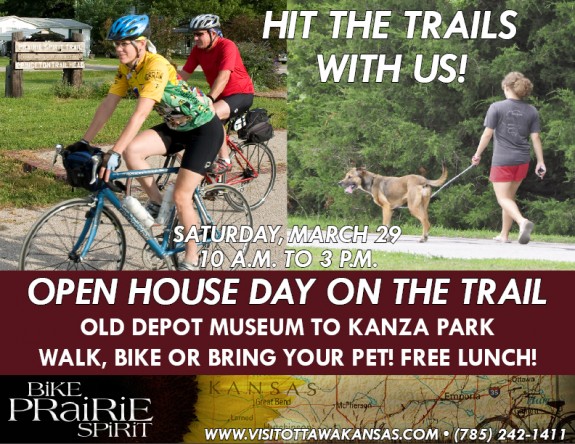 Ottawa is hosting an Open House Day on the Trail from 10 a.m. to 3 p.m. beginning at the Old Depot Museum and ending at Kanza Park. Participants are encouraged to walk or bike the trail and bring their pets along. A free lunch will be served from noon to 1 p.m.
The 2nd Annual Prairie Spirit Trail Ultra Races are also taking place on March 29th, starting and ending in Ottawa, and running almost the entire length of the trail, with 50-mile and 100-mile races. This is a great chance to watch some amazing endurance athletes compete!
See also: Prairie Spirit Trail Brochure, Prairie Spirit Trail Map
Post tags: Ottawa, Prairie Spirit Trail, Rail Trail