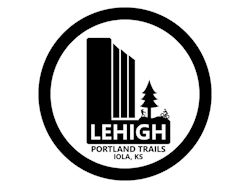 The Lehigh Portland Trails are built on the site of a former cement plant and quarry, along the banks of Elm Creek in Iola, Kansas. The trails consist of approximately 2 miles of wide gravel trails and 5.5 miles of natural-surface trails for mountain biking, trail running, and nature hikes.
The Lehigh Portland Trails were built by volunteers with Thrive Allen County, via a Healthy Living grant from the Kansas Health Foundation, on land owned by Iola Industries, Inc. through an easement granted to the Sunflower Rail-Trails Conservancy, Inc. The trail's name pays homage to Allen County's industrial past and specifically to the Lehigh Portland Cement Company, which purchased the Iola Portland Cement Company in 1917 and operated a major plant in Iola until 1970.
The trail system includes walking and biking trails similar to the Prairie Spirit Trail and the Southwind Rail Trail, but also includes mountain bike trails and related amenities that are rare in this part of Kansas. The trail system is free and open to the general public year round.