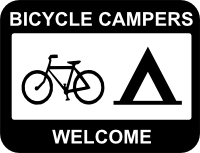 The following is a directory of bicycle camping resources in the state of Colorado, including both free and pay sites, concentrating on tent (primitive) campsites most appropriate for bicycle touring.
Note that most of these are not exclusively for bicycle camping; most are described as "tent camping", "primitive camping", or "backpacker camping". But all of these will accept campers traveling by bicycle, and offer a minimum of a place to pitch a tent. Other common amenities include restrooms, water, showers, picnic tables, etc.
Colorado Camping Destinations
Colorado is unique among Kansas' neighboring states in its wealth of camping opportunities. With more than a third of Colorado's land area owned by the public and available for public use, much of it at no cost and with few restrictions, the possibilities for bicycle camping are essentially limitless.
You'll need to research each destination to verify what services and amenities it may offer, and how much it may cost – many are free, but some require a minimal payment.
Colorado Camping Resources
Bicycle Camping Elsewhere in the Region
See Also: Bicycle Camping Resources By State – A nationwide directory of places for bicyclists to camp, in every state.
Other Bicycling Resources in Arkansas