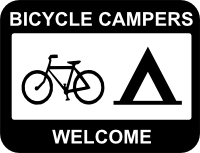 The following is a directory of bicycle camping resources in the state of Missouri, including both free and pay sites, concentrating on tent (primitive) campsites most appropriate for bicycle touring.
Note that most of these are not exclusively for bicycle camping; most are described as "tent camping", "primitive camping", or "backpacker camping". But all of these will accept campers traveling by bicycle, and offer a minimum of a place to pitch a tent. Other common amenities include restrooms, water, showers, picnic tables, etc.
Missouri Camping Destinations
Missouri State Parks Camping – Learn about camping opportunities at Missouri State Parks. "Forty state parks and historic sites offer camping opportunities to suit everyone's needs, from primitive walk-in sites to sites with hookups for water, electricity and sewer."
Missouri Conservation Areas Camping – Learn about camping opportunities at Missouri Conservation Areas. "You can camp on many areas owned by the Missouri Department of Conservation. Conservation areas offer only primitive style camping with no hookups and few amenities. They appeal to campers who really do want to get away from it all."
Mark Twain National Forest Camping – The Mark Twain National Forest is spread out over several areas and 1.5 million acres in southern Missouri. There are numerous official campgrounds, and as in all National Forests, dispersed camping is permitted, at no cost, unless otherwise posted, using "Leave No Trace" ethics.
You'll need to research each destination to verify what services and amenities it may offer, and how much it may cost – many are free, but some require a minimal payment.
Missouri Camping Resources
Bicycle Camping Elsewhere in the Region
See Also: Bicycle Camping Resources By State – A nationwide directory of places for bicyclists to camp, in every state.
Other Bicycling Resources in Missouri