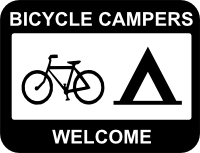 The following is a directory of bicycle camping resources in the state of Nebraska, including both free and pay sites, concentrating on tent (primitive) campsites most appropriate for bicycle touring.
Note that most of these are not exclusively for bicycle camping; most are described as "tent camping", "primitive camping", or "backpacker camping". But all of these will accept campers traveling by bicycle, and offer a minimum of a place to pitch a tent. Other common amenities include restrooms, water, showers, picnic tables, etc.
Nebraska Camping Destinations
Nebraska State Parks – Learn about camping opportunities at Arkansas State Parks. Nebraska charmingly (and perhaps patronizingly) refers to tent camping as "Non-Modern Camping". Most Nebraska state parks and state recreation areas provide some level of primitive camping, starting at $7 per night.
Camping Along Nebraska's Outlaw Trail – "Extending from the metropolitan area of South Sioux City to the 'Old West' in Valentine, the Outlaw Trail Byway meanders alongside the Niobrara and Missouri Rivers where steep bluffs and tree-shrouded slopes give way to lush, rolling green hills." There are numerous camping opportunities along the 231-mile corridor.
Nebraska National Forest Camping – Learn about official campgrounds in the Nebraska National Forest. As in all National Forests, dispersed camping is permitted, at no cost, unless otherwise posted, using Leave-No-Trace ethics.
You'll need to research each destination to verify what services and amenities it may offer, and how much it may cost – many are free, but some require a minimal payment.
Nebraska Camping Resources
CampgroundsOnTheWeb.com – A guide to campgrounds, cabins, and RV parks in Nebraska.
FreeCampsites.net – A directory of free and low-cost campsites in Nebraska, primarily aimed at car camping and RV parking.
FreeCampgrounds.net – A directory of free and low-cost campsites in Nebraska, primarily aimed at RV'ers.
Bicycle Camping Elsewhere in the Region
See Also: Bicycle Camping Resources By State – A nationwide directory of places for bicyclists to camp, in every state.
Other Bicycling Resources in Nebraska