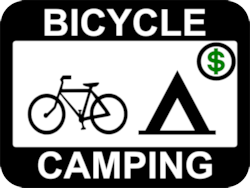 Outlet Park provides campsites below the dam at Pomona Lake, near Vassar, Kansas. It is managed by the Corps of Engineers.
Outlet Park has 36 campsites with utilities, and each can accommodate an RV or a vehicle, but may be used by tent campers as well. Each site includes a fire ring and picnic table. The campground includes showers, flush toilets, and picnic shelters.
Sites start at $12 per night. The park is open from April 1st through October 31st. Winter camping is also available from November 1st through March 31st, for $10.00 a night.
Other campgrounds at Pomona Lake include 110-Mile Park, Carbolyn Park, Cedar Park, Michigan Valley Park, Wolf Creek Park, and Pomona State Park. 110-Mile Park and Cedar Park are free; the others are pay sites.
Pomona Lake is also home to the Black Hawk Trail, located on the north side of the lake at 110-Mile Park, which is a 32-mile equestrian and mountain biking trail through a variety of wooded, riparian and grassland areas. Also nearby is the Flint Hills Nature Trail, a rail-to-trail that runs east-west for about 117 miles, connecting Osawatomie in the east and Herington in the west.
Contact: Pomona Project Office, Pomona@usace.army.mil, 785-453-2201. Brochure, Map