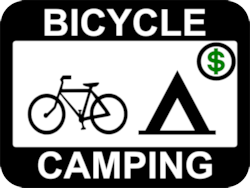 Carbolyn Park provides campsites at the west end of Melvern Lake, near Vassar, Kansas. It is managed by the Corps of Engineers.
Carbolyn Park has 29 campsites (26 with utilities, 3 primitive). Each full campsite can accommodate an RV or a vehicle, but may be used by tent campers as well. Each site includes a fire ring and picnic table. The campground includes a shower building, vault toilets, and picnic shelters.
Sites start at $12 per night. All sites at Carbolyn Park are available on a first-come, first-served basis. The park is open from May 1st through September 30th.
Other campgrounds at Pomona Lake include 110-Mile Park, Cedar Park, Michigan Valley Park, Outlet Park, Wolf Creek Park, and Pomona State Park. 110-Mile Park and Cedar Park are free; the others are pay sites.
Pomona Lake is also home to the Black Hawk Trail, located on the north side of the lake at 110-Mile Park, which is a 32-mile equestrian and mountain biking trail through a variety of wooded, riparian and grassland areas. Also nearby is the Flint Hills Nature Trail, a rail-to-trail that runs east-west for about 117 miles, connecting Osawatomie in the east and Herington in the west.
Contact: Pomona Project Office, Pomona@usace.army.mil, 785-453-2201. Brochure, Map