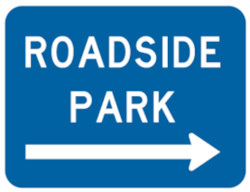 As an amenity to travelers, Kansas began constructing roadside parks in the 1930s. In the days before convenience stores, when many small-town groceries had very limited hours, and when the vast majority or highways in the state were two-lane roads, roadside parks provided a safe place for travelers to rest, stretch their legs, have a picnic, or access a restroom.
According to the Kansas Historical Society, "By 1958 Kansas had 138 roadside parks or rest areas on its system of primary highways and an additional 70 picnic table sites. The roadside parks and rest areas ranged in size from one to five acres and included parking areas, picnic tables, fireplaces, and shelter houses – more than half of them had toilet facilities."
In 1963, a newspaper article reported that "Kansas has one of the finest roadside park programs in the nation, perhaps the best", with 165 roadside parks serving over three million people a year. Another article from 1969 said "Kansas has an advanced system of 240 superior safety rest areas, a system that will match any in the nation. Surveys indicate that approximately 3,500,000 people stop annually at Kansas roadside rest areas."
In 1983, KDOT issued a study, "Roadside Park Study: An Analysis of the Usage and Demand of Kansas Non-Interstate Rest Areas and Turnout Locations", which: "recommended elimination of: rest areas, roadside parks, and turnouts with low visitation; those in or within five miles of cities; those with obsolete or substandard facilities; and all Class I turnouts with no facilities. The study proposed that 44 roadside parks/rest areas remain open, 57 be turned over to another authority (local government), 20 be converted to minimum service level, and 38 be closed with existing facilities removed." (Kansas Preservation, pg 6)
As of 2008, Kansas had a total of 160 "roadside facilities": 69 were turnouts with a historical marker but no other facilities, 28 provided picnic tables but no other facilities, 17 had a historical marker and picnic table(s), 44 with restrooms, and 2 with overlooks but no additional facilities.
The roadside park was the progenitor of what we today call a "rest area" or "rest stop". Modern rest areas are located primarily along the interstate highway system, and are actually mandated by federal law. These are, unfortunately, off-limits to bicyclists, since bicycles are prohibited on interstate highways in Kansas.
But the remaining system of Kansas roadside parks exist primarily on the state and national highways, and so are great resources for bicycle travelers. Sadly, many of the older generation of roadside parks have disappeared over time, so that there are many fewer than in the recent past, and many are less well-maintained than they once were.
Kansas roadside parks are maintained primarily by the Kansas Department of Transportation, though individual cities or counties may own roadside parks located within their jurisdictions.
Is It Legal to Camp at Kansas Roadside Parks?
Kansas Department of Transportation Regulations, 36-32-2 state: "Roadside facilities which are adjacent to Kansas roads shall be available to the traveling public for rest, relaxation and historical information. Overnight camping shall be permitted for one night only."
According to FreeCampsites.net: KS State Police (Lt. Roger L. Baughman, 8/25/2015): "The KHP [Kansas Highway Patrol] would not normally bother someone in a roadside park unless there was some type complaint or criminal activity in the roadside park."
Note that some states (e.g. Nebraska) specifically prohibit camping in roadside parks. Kansas apparently has no such statute, tn which case, it should be legal to camp in a roadside park, unless a sign specifically prohibits it.
As always, this site offers no specific legal advice, accepts no liability for errors or omissions, is not responsible for your use or misuse of the information provided, and does not warrant the accuracy of the information provided. In other words: Only you are responsible for your actions and the consequences of your actions. You use this information at your own risk.
List of Kansas Roadside Parks
As far as I know, there is no published master list of current Kansas roadside parks available online. This is an effort to at least begin to put that right. The following are Kansas roadside parks that I am aware of, along with the highway(s) they're on, and their approximate GPS coordinates (linked to Google Maps):
Most of the parks on this list have been located through satellite imagery, and have not been personally verified. Those that have been verified (either personally or via official web sites) include a link to the park listing on the Kansas Cyclist web site.
Of course, there are no guarantees attached to this list; you should check for signage, and/or check with local authorities to make sure it's OK to camp in any park.
Also, this list should not be seen as 100% comprehensive or complete – there are likely more Kansas roadside parks that allow bicyclists to camp overnight. If you have any additions (or deletions, or edits), please let me know!
Best Practices for Camping in Roadside Parks
Observe any posted rules or regulations.
If a law enforcement officer questions your presence in a roadside park, be respectful and cooperative, respond honestly, and simply say that you're uncomfortable bicycling on the road, due to darkness, inclement weather, illness, or fatigue, as the case may be. You may want to say that you're only looking for a safe place to spend the night, rest, or wait out the storm, and will move along as soon as you are able to do so safely. Of course, if a law enforcement officer insists that you vacate the roadside park, then do as requested; hopefully they will be able to advise you on a more suitable place to camp or rest.
Don't litter. Pick up your trash. If there are no trash bins in the park, pack up your rubbish and dispose of it at the next one you find.
Don't damage any property, including any plants or trees.
Don't start a campfire, unless posted rules specifically allow it, and/or fire rings or grills are provided.
Bring your own food and water; you cannot count on any services being available near a roadside park.
Be careful of drinking water from spigots or pumps; it may not be potable.
Earplugs are a good idea, since you will, by definition, be alongside a road.
Pick an out-of-the way location in the park if you can; be as inconspicuous as possible.
Lock up your bike at night, and secure your gear as well as you can.
After dark, it may be a good idea to cover any reflective bits on your bike or gear, and to limit your use of flashlights.
If harassed or threatened by locals or motorists, call the police: 9-1-1
Is It Safe To Camp in Roadside Parks?
Safety and security are definitely a concern. Roadside parks are often located in remote areas, within sight and easy access of roadways, and some may be "party spots" for locals.
Wikipedia says: "Many rest areas have the reputations of being unsafe with regard to crime, especially at night, since they are situated in remote areas. Some of this reputation may be exaggerated."
You need to make your own determination of the safety of a site. As the best practices suggest, be as inconspicuous as possible, lock up your bike, cover your reflectors, and be prepared to call in law enforcement.
See Also
Related Information