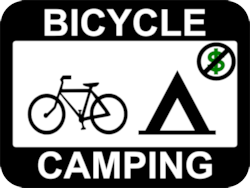 This roadside park is located along US-56 highway, on the southeast corner of US-56 and E 2200 Road, about three miles southeast of Baldwin City, Kansas. It contains historical markers as well as a replica log cabin that is used as a community meeting place.
There are no amenities at the roadside park, but there is plenty of grassy space for camping or picnicking, with lots of trees and shade.
Note: This is an unofficial campsite. There is no signage that explicitly allows or prohibits camping at this roadside park.
The Ivan Boyd Prairie Preserve is located just south of the roadside park, and includes original Santa Fe Trail ruts. The Black Jack Battlefield and Nature Park is located about 1/4 mile further south along E 2200 Road, and commemorates the Battle of Black Jack, considered by many to have been the first battle of the American Civil War. The park has picnic tables, but no other amenities, and does not allow camping.