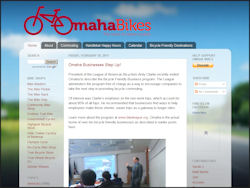 Omaha Bikes is a community organization that promotes and advocates for bicycling infrastructure, opportunities, and experiences for the people of Omaha, Nebraska and the surrounding area.
Omaha Bikes was originally formed as a blog by the name of Bike Omaha in September of 2008 by Bob Brindamour with a focus on transportation cycling advocacy and related cycling news. After a year of operation and the addition of many authors and contributors, the blog evolved into an advocacy group.
The blog is directed towards all bike riders in Omaha. That includes kids riding their bikes in the driveway, people using bikes for transportation, people racing bikes, and even people that just like bikes but rarely get a chance to ride one. This site aims to encourage more people to start riding bikes or start riding their bikes more often.