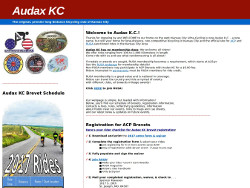 Audax KC is your home for long-distance, non-competitive bicycling in Kansas City, and the official site for information about Audax Club Parisiene (ACP) and Randonneurs USA (RUSA) sanctioned rides in the Kansas City area.
The site contains ride rules and regulations, as well as a complete schedule of upcoming 200K, 300K, 400K, 600K, and 1000K rides, plus maps and cue sheets.
Randonneuring is long-distance unsupported endurance cycling. This style of riding is non-competitive in nature, and self-sufficiency is paramount. When riders participate in randonneuring events, they are part of a long tradition that goes back to the beginning of the sport of cycling in France and Italy. Friendly camaraderie, not competition, is the hallmark of randonneuring.