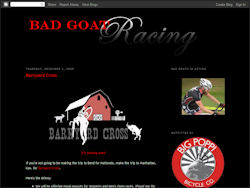 Bad Goat Racing is a mountain and cyclocross team dedicated to racing hard and partying harder in Manhattan, Kansas.
Bad Goat Racing puts on Barnyard Cross and the Dirty Little Secret mountain bike race at Fancy Creek State Park.
The Bad Goat Racing web site hasn't been updated in several years, so presumably the club has folded...
Sorry, but this listing is not currently active;
info shown is the last known data...