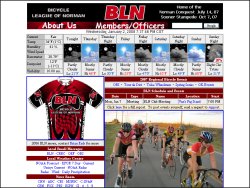 The Bicycle League of Norman is composed of recreational and competitive cyclists, both road and mountain, many of whom are successful racers.
The mission of the BLN is to support and encourage the growth of recreational bicycling in and around Norman, Oklahoma by organizing ride events, supporting bicycle safety and educational activities, participating in city government planning for improved bicycle access, and emphasizing the healthful and social aspects of cycling.
By being a member, you will receive an invitation to club parties and events, but most importantly, you will a member of a fun, friendly, caring group of cyclists who promote cycling in and around Norman.
Annual events include the Norman Conquest road ride, and the Sooner Stampede mountain bike race.